Mechanical Vs Membrane Keyboards: In the computer world, there is a lot of stuff regarding keyboards. The world of keyboards is entirely a different world comprising of various kinds of the membrane and mechanical keyboards.
Membrane keyboards are the cheapest and entry-level keyboards, whereas mechanical keyboards are a step ahead of the membrane keyboards.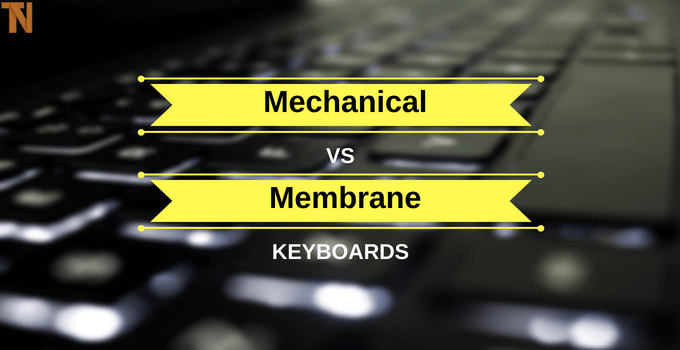 Membrane keyboards comprise of a soft membrane inside the keyboard caps, which gives a soft feel while pressing it. Whereas, Mechanical keyboards have various types of mechanical switches underneath the keycap which makes it more tactile and is easy on the hand.
Must Check: 10 Best PC Gaming Chairs Under $100
Mechanical Vs Membrane Keyboards
If you're confused which one to choose, then you're at the right place. After reading this post you will no more be confused to Choose Mechanical or Membrane keyboards. If you want to know why then keep reading. 
A membrane keyboard works by electrical contact between the keyboard surface and the underlying circuits that are present underneath and work when keytop areas are pressed.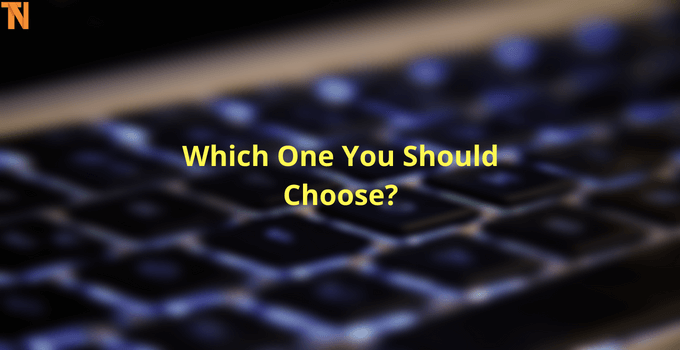 The main disadvantage of this keyboard is that error-free blind typing is somewhat tricky and most people have difficulty using this to type larger pieces of text.
But mechanical keyboards are a lot different. They have a longer shelf life, provide extremely tactile feedback, and give less strain on the hand while typing larger pieces of text. This is why Membrane keyboards are mass-produced easily, and it is the cheapest type of keyboard available on the market.
In India, a membrane keyboard is available for as cheap as $5. Mechanical keyboards unlike sending electrical signals using membranes have either one of these switches underneath the keycaps. If you to buy good wireless mechanical keyboards then here is the list of 10 best Bluetooth mechanical keyboards for you.
Mechanical keyboard switches
Blue Switch
Red Switch
Black Switch
Brown Switch.etc
And many companies are making these switches. The popular one being Cherry Mx. There are other brands such as Kailh, Romer G, Greetech, Gateron, Razer.etc
Each switch has its own advantage, for example, Blue switches are used by typists and writers, on the other hand, Red/Brown switches are mostly preferred by gamers. We know you're lost, let's take cherry switches as an example.
4 Cherry Switches On the basis of colors
Cherry switches made their debut in 1983 since then they never stopped. Cherry switches are arguably the best switches a mechanical keyboard can have.
1) Cherry Mx Blue:
Blue switches are usually preferred by typists and writers because the switches are clicky and they feel heavy when compared to others. It also provides excellent sound like that of a typewriter and thus making it heavenly for typists. Go for this one, If you type a lot.
2) Cherry Mx Red:
Red switches are usually preferred by gamers. They feel light, and they aren't Clicky as Cherry blues. It doesn't provide any sound thus staying silent. Go for this one, If you don't want your keyboard to make any noise.
3) Cherry Mx Black:
Black switches are also preferred by gamers. They aren't as light as Cherry Reds. Instead, they are on the heavier side. Even blacks stay quiet without making any noise. This is ideal for really fast-paced gaming as there are practically zero hystereses.
4) Cherry Mx Brown:
Brown switches, on the other hand, provide great tactile feedback compared to all of the switches. They aren't too light nor too heavy but can be categorized as medium weighted switches. Browns switches don't make a sound and stay quiet. It is a right blend for both typists and gamers alike.
It doesn't mean that other switches are bad, It's just that Cherry Mx switches are a pioneer in the mechanical keyboard business.
In case you're going with Gateron or Kailh switches, the color pattern is usually the same. Hence you need not be confused to which one to choose. Mechanical keyboards come in different colors, shapes, and sizes.
Have a look at this keyboard: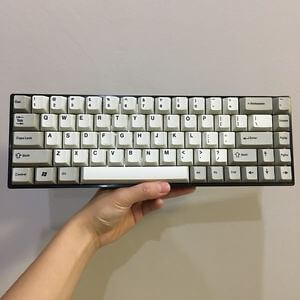 This is a 60% keyboard, that means it's not a full-sized keyboard having 104 keys. They also come with lights, which is especially useful for gamers and typists who work at night.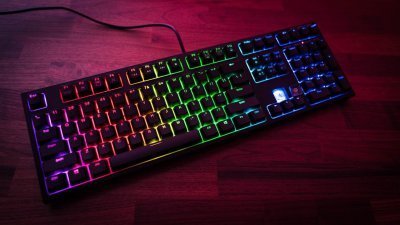 Another best part of having a mechanical keyboard is that the keycaps are removable and can be replaced by any other keycap of your choice. This is one way you can personalize your mechanical keyboard.
Did you know that Mechanical keyboards offer superior durability and usually have a 50 million keystroke lifecycle?
50 million keystroke lifecycle is huge, and this is the main reason why my Grandpa's mechanical keyboard still works great.
They also perform well as compared to any membrane keyboard present in the market. Now you know why mechanical keyboards are priced on the higher side.
Conclusion
Being an avid gamer and a writer, I've personally used various kinds of keyboards, and nothing felt better than typing on a mechanical keyboard. It simply is a step ahead of membrane keyboards and they usually last years as compared to cheap membrane keyboards.
The prices are surely on the higher side, and it is comparatively heavier than membrane keyboards. In spite of these two disadvantages, I'd personally choose a Mechanical keyboard. So, spend those extra bucks on a good mechanical keyboard, and you'll not regret your purchase.