Today, I am going to share the 10 best download manager extensions for Google Chrome. Google Chrome is one of the most popular web browsers used worldwide for various purposes. We've seen many improvements in stability and user interface, and experience in the past couple of years.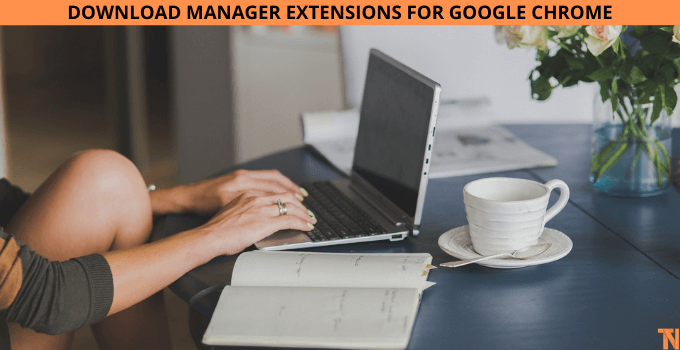 However, one thing has remained constant for many years now – the Download Manager of Google Chrome. There are many required features, such as better optimization for resuming failed downloads, scheduling downloads, etc.
We can't say if or when Google will roll out a better update for Download Manager. However, we do know that you desperately need a better version. That's why you're here.
Fortunately, there exist Chrome extensions to help you out with ease. This piece of information contains the details of the 10 Best Download Manager Extensions for Google Chrome available in the market to make your downloading experience better. Let's have a look at them in detail.
Must Read:
Best Download Manager Extensions for Google Chrome
The download manager extensions for google Chrome come in two basic variants, i.e., one that requires you to download an application while the others don't. The standalone extensions could be better for you.
However, let's discuss both of them in detail before jumping on to a conclusion. Mentioned below are both the types of download manager extensions for chrome – standalone and the one that requires a complimentary application. 
1. Chorno Download Manager
The Chrono Download Manager has adapted a similar color scheme as Google Chrome – a great marketing strategy. It has got all the features that you probably need.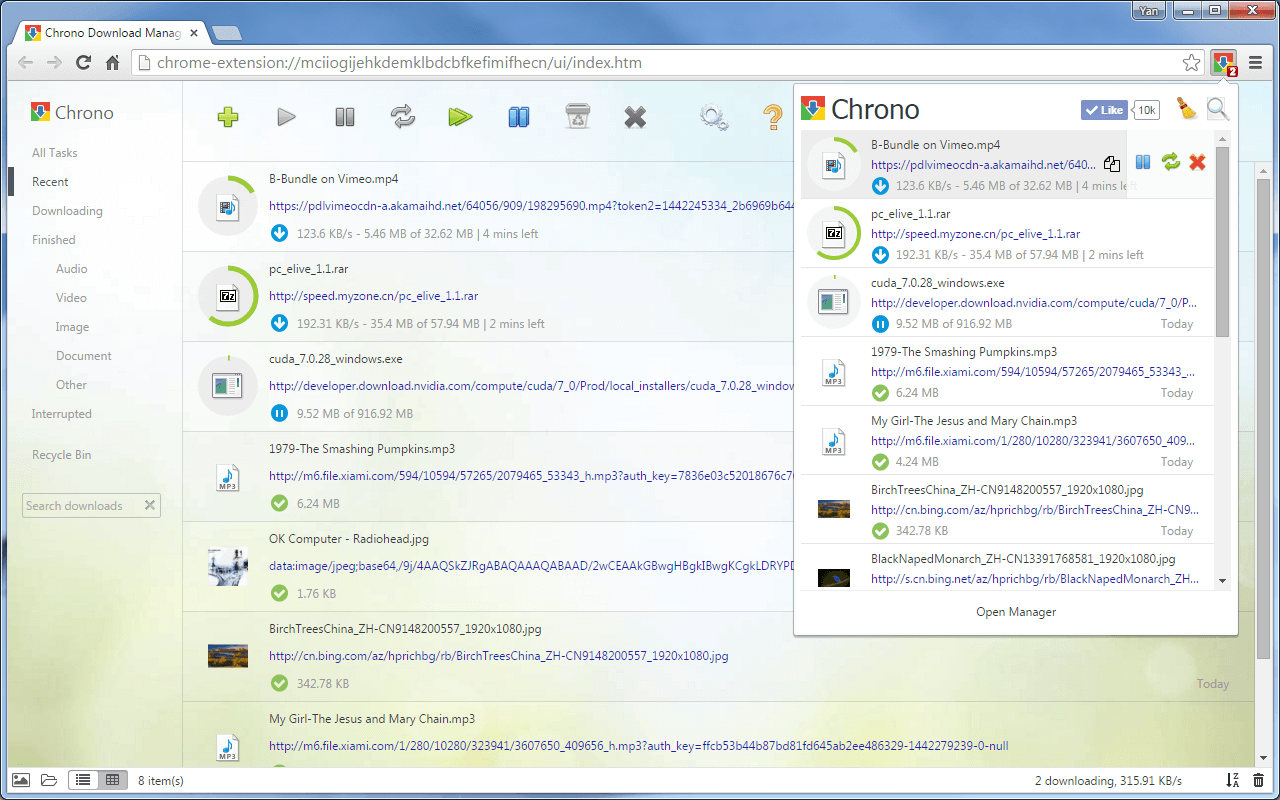 You can start downloading any file by clicking on it. While testing, I didn't encounter any lags. Instead, the downloading process is simple and quick.
Your downloads will appear in the form of a list that can be filtered in various categories, as preferred. The downloads section can be accessed from the top right corner of your screen.
Apart from that, you can identify the number of download links on any webpage. The Chrono download manager can download 20 files at a time, including images, videos, applications, zip files, etc.
2. Online Download Manager
Online Download Manager is one of the best download manager extensions for Google Chrome available out there. The best part about using this download extension is filtering the downloads from the dialog box on the screen's top-right corner.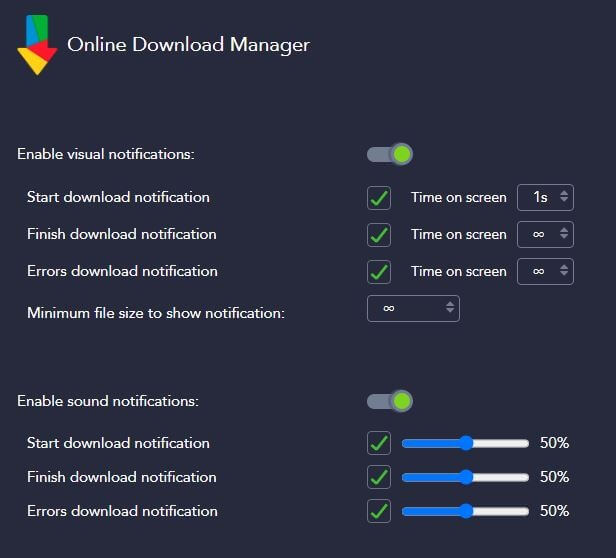 There's no need to leave the current window. The downloads can be filtered into various categories with ease. However, the download manager doesn't support pirated downloads such as YouTube videos, Netflix shows, etc.
The user interface of Online Download Manager is minimal and easy to use for anyone. If you want a simple extension with not many geeky features, this is the one to go for.
3. Turbo Download Manager
Turbo Download Manager is another great Google Chrome extension available in the market to manage your downloads. With a minimal interface, it is easy to use for anyone.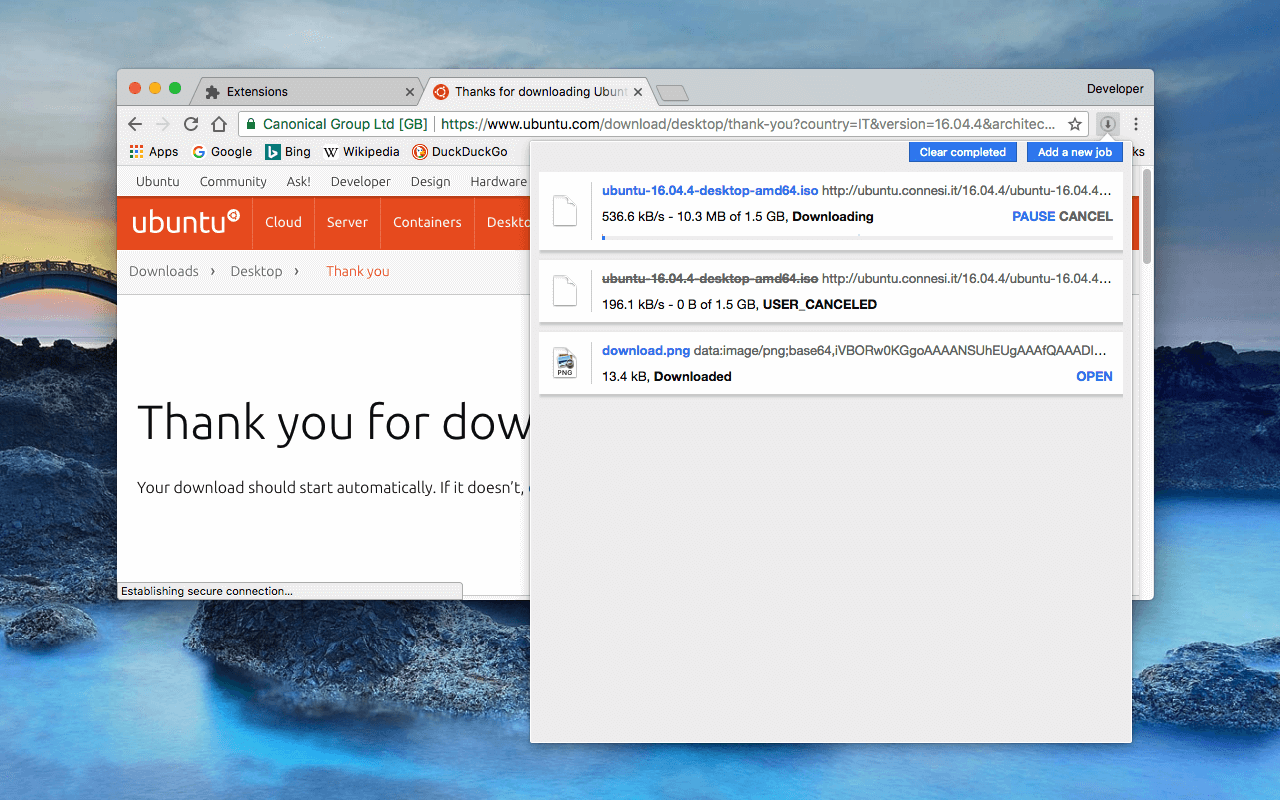 You can download multiple files at a time, and resume/pause/stop downloads at any time without lagging the connection. Apart from that, you get notifications for various purposes, like after starting or completing a download.
The search bar will help you in searching for certain downloaded files instantly. The downloaded media or files can be categorized using a few basic filters available with the extension.
4. Download All 
Download All is one of the best Download Manager extensions for Google Chome to use in 2021. As the name suggests, it is a flexible and versatile download manager for downloading multiple files at a time.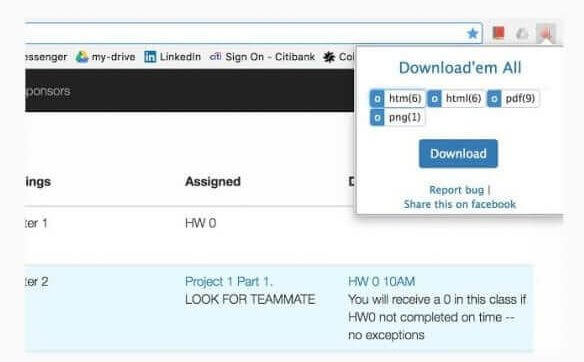 It can download files in almost all forms, such as images, videos, zip files, applications, etc. The user interface of Download All looks pretty simple and minimal and is easy to use as well.
The extension is available for free to use, making it better than many other market options. Also, the flawless resume/pause option for downloads makes it a perfect choice.
5. Ant Download Manager
Ant Download Manager is another option on our list of best download manager extensions for Google Chrome. The ongoing downloads via this extension can be managed with ease.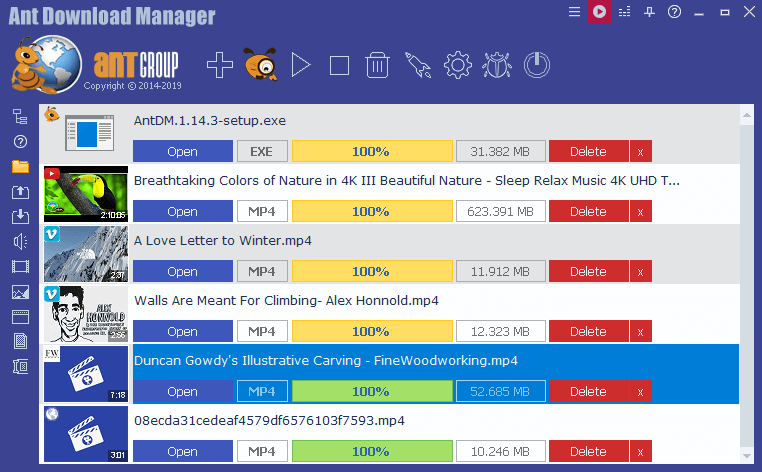 The capability to support multiple tasks at a time makes it flexible and versatile to use for everyone. It allows you to schedule downloads for further usage with a couple of clicks. 
Not just that, you can manually setup tasks and pause/resume them at any time without breaking the internet connectivity. It lets you filter the downloads and categories them for a better understanding of your downloaded files.
6. VLC Video Downloader
VLC Video Downloader is specifically designed to manage and maintain downloads on Google Chrome via the download manager extension.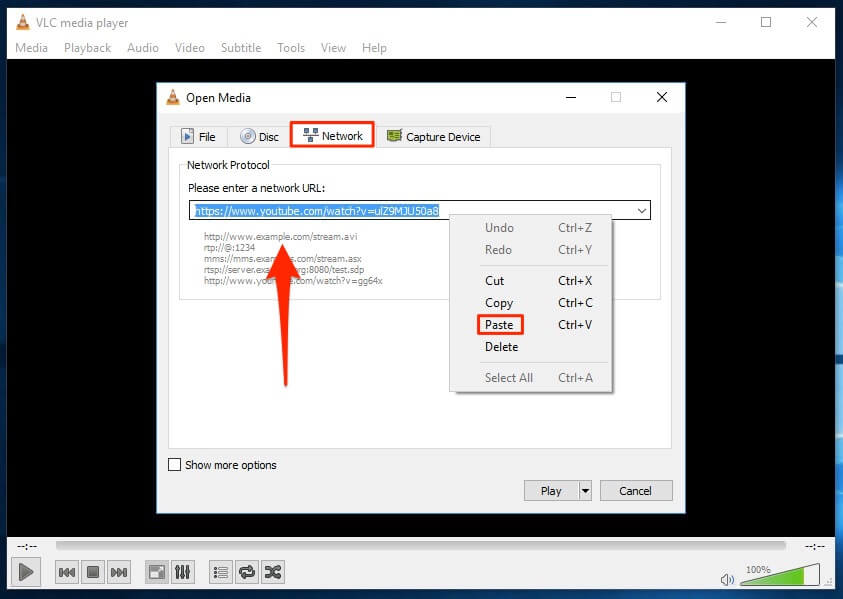 It can help you download media from various popular platforms such as Instagram, Facebook, Twitter, (unfortunately not YouTube), etc., with easement. It can help you find the right download link on a website quickly.
Designed by VLC, it helps you copy the streaming link from any platform and use it on VLC Media Player to stream content instantly. I, personally, found it amongst the best extension to download media from Social Media platforms.
7. Internet Download Manager
IDM or Internet Download Manager is probably the best and the most popular Google Chrome extensions for managing downloads on Windows PC. Not just Chrome, it supports other web browsers as well.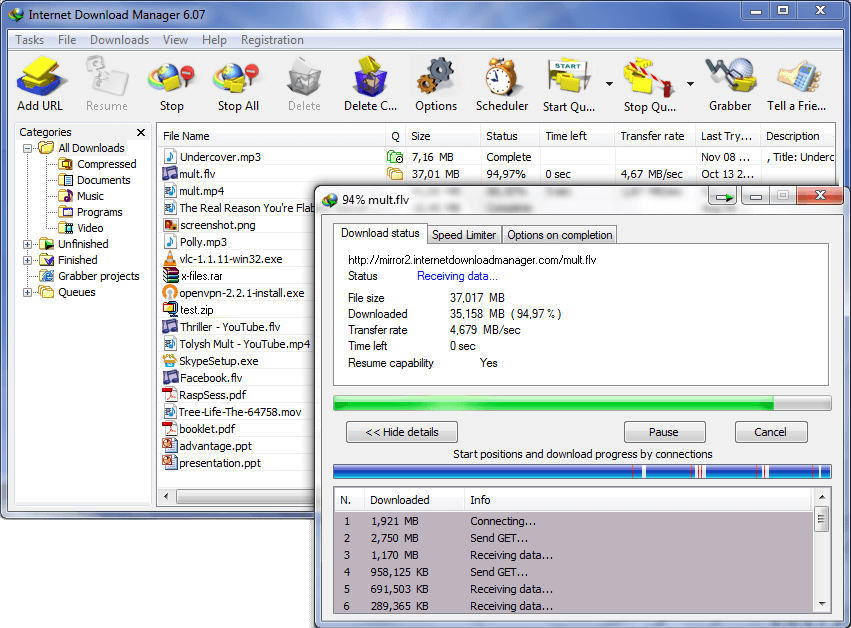 It instantly taps the download links from the web browser and starts the download process. It can detect and download all media files, including images, videos, audio, etc. Hence, you can download it from YouTube as well!
Unlike other extensions on this list, it has a few advanced options like scheduling and prioritizing your downloads. The only bad part is that IDM is a paid application and comes with a 30-day free trial pack.
If you can invest, there is no better option than Internet Download Manager (IDM).
8. Folx 
Various critics and consumers have said that Folx is the IDM for Mac users. Except for the user interface, the rest of everything is similar to IDM. It can catch the download links with ease from any web browser.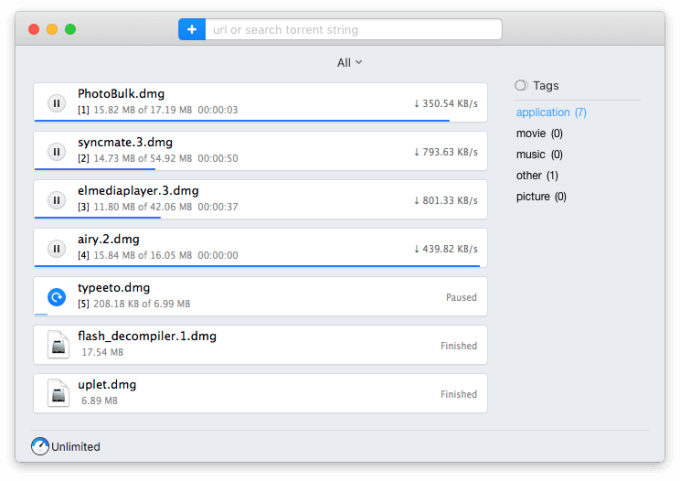 The simultaneous fetching tech (splitting files into pieces) installed in it helps you gradually accelerate the download speed. The support for the proxy server will help in keeping the indeed safe from everyone on the internet.
You can pause/resume the downloads at any time. If you've ever used IDM on Windows, you will love using Folx on Mac, for sure!
9. Free Download Manager
Well, finally, a free download manager application for Google Chrome – Free Download Manager. You can download, categorize, and organize your downloaded files with ease.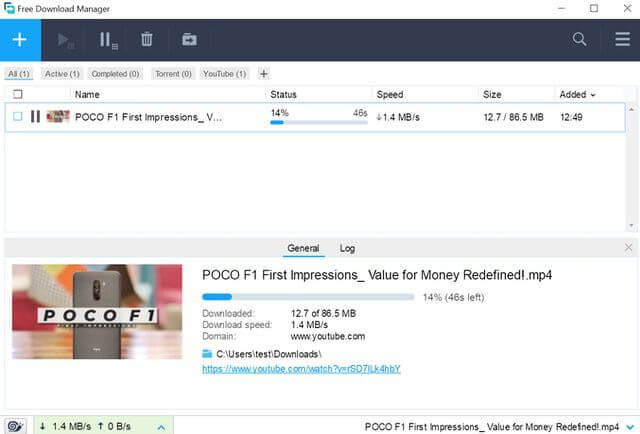 This application works on a similar tech like that of other extensions on the list, i.e., breaking down the file in various parts, downloading it, and merging it later. 
You can schedule downloads, resume broken downloaded files, and accelerate the speed too. The best part about FDM is that it lets you preview the media files before actually downloading them. This is a unique feature lacking by the majority of the download managers.
10. EagleGet 
EagleGet is the last but not the least option on the best download manager extensions for chrome. It is a reliable and trusted download manager designed to be used on various web browsers.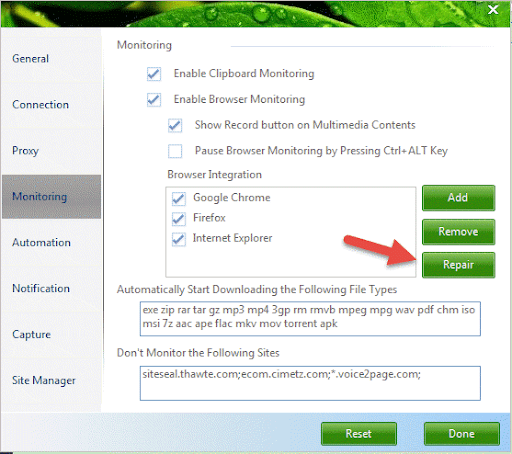 It can catch the download URLs from the webpages with ease. You can accelerate the download speed using the split-technology downloading process. 
You get all the smart features like scheduling, prioritizing, and filtering the downloads. It is a feature-rich application and chrome extension perfect to use for people looking for a minimal and simple to use extension.
Must Read: Get Grammarly premium for free
Final Verdict
The pre-built download manager on Google Chrome hasn't received any major updates in the past years. Thus, you need a better experience while downloading files on the internet. Let's give a try to third-party options.
The 10 best Download Manager Extensions for Google Chrome mentioned in the post have been filtered based on their popularity and performance. Choose wisely after reading the description of each of them. 
Which extensions are you going to choose? Do let us know in the comment box below. For more astonishing tech updates and guides, keep following Techonation!