Today, I will share the 10 best free Audible alternatives. Well, these sites and apps are the best alternatives to audible, according to our research. Books have been a part of our society since ancient times. However, ebooks started to replace them slowly in the 21st century.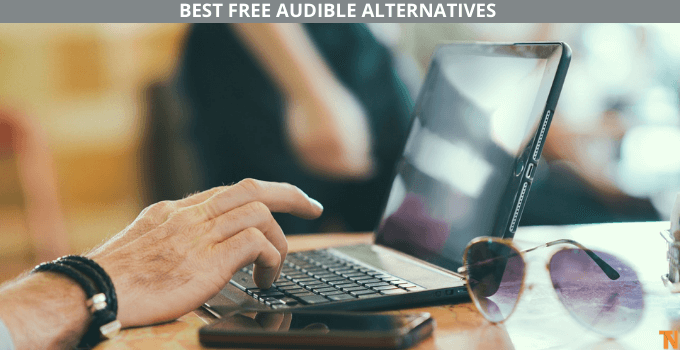 As you know, no technology is permanent, and there's always something better; audiobooks are taking over the market. Listening to audiobooks has become easier when compared to paperback or ebooks. One can enjoy listening to audiobooks while walking, jogging, exercising, etc., making it less time-consuming.
A subsidiary of Amazon Inc., Audible has become popular among users worldwide. It is one of the largest audiobook producers and retailers in the world. Thanks to Audible, book lovers now prefer audiobooks over ebooks and paperback any day.
However, Audible is a paid service, and not everyone can afford it. Hence, I have come up with 10 Best Free Audible Alternatives in this article. I have also shared download manager extensions for Google Chrome.
Must Read:
10 Best Free Audible Alternatives (Sites & Apps)
Audible is undoubtedly the best audiobook service available in the market. However, they charge a hefty amount that might not be affordable for everyone.
Hence, the list mentioned below has alternatives to Audible. Go through each of them thoroughly and choose one based on your preferences. Recently, I have shared these ePub readers for Windows.
1. OverDrive
OverDrive is one of the best free audible alternatives available in the market. You need to have a library card from your local library. Once done, you can borrow various books from more than 30,000 libraries listed on OverDrive.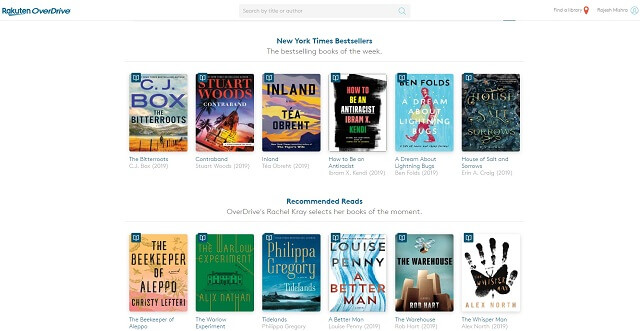 You can rent these books for almost the same prices as any local library. Thus, you won't have to worry about hefty subscriptions or payments. 
If you don't have a library card, choose one of the 2 Million and counting ebooks from OverDrive and enjoy. The OverDrive application is available for download on Windows, Android, and iOS. 
2. Librivox
Librivox is another amazing Audible alternative available in the market right now. It is one of the very few public domain audiobooks available to use for listeners worldwide. Apart from streaming audiobooks, you can volunteer to record the public domain book.

Librivox has a huge collection of audiobooks from around the globe in different languages. Hence, you don't have to worry about finding a book in the regional language. 
The best part is all this is available to use for free of cost. However, they don't have an application for Android or iOS. You have to stream everything from the website itself. 
3. Libby
If you have used OverDrive, you probably will love to explore Libby as well. Just like OverDrive, it is flooded with a lot of audiobooks available for listening. As compared to OverDrive, Libby has better customization options and a user interface.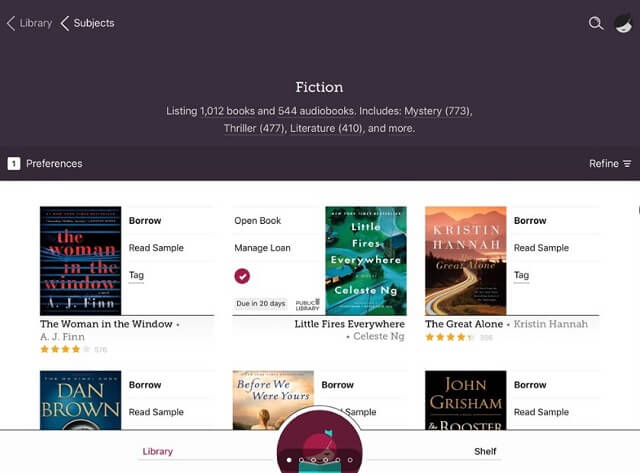 It also offers you to rent books from your local library using their cards. However, it does come with an amazing substitution. You can download audiobooks to listen to anywhere and everywhere.
That's what the developers say about it – we want you to listen to the audiobooks from anywhere you want to. Apart from that, you can sync your reading position of ebooks into different devices with ease. 
4. Spotify
The most popular music streaming service Spotify has a huge collection of audiobooks. The majority of them are available to use for free for everyone. It is one of the simplest and easy to use audible alternatives on this list.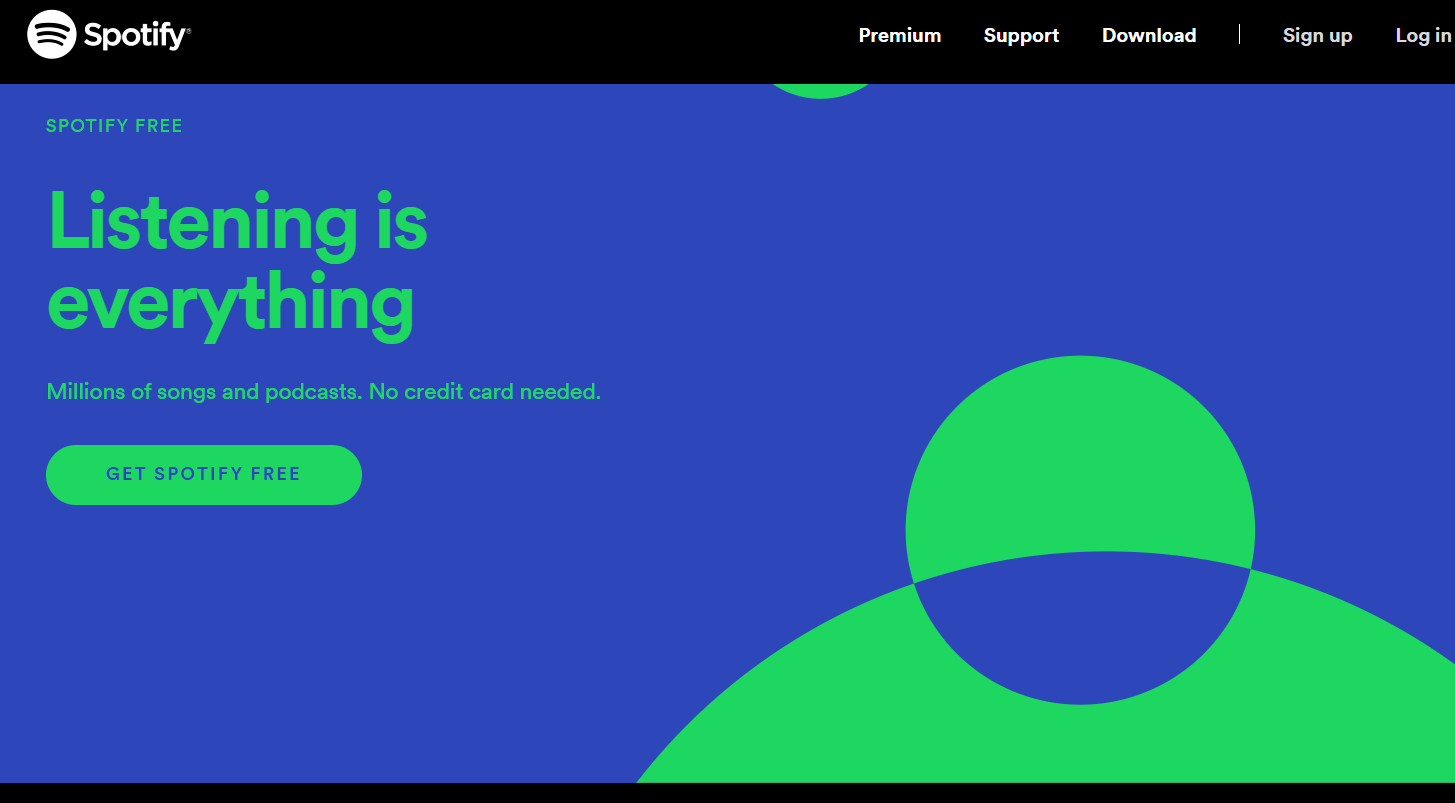 If you compare the quality and categorization of Spotify with that of Audible, there is no comparison. However, you can't find a better premium looking and classy free audiobook service for being the free alternative.
Spotify is definitely better in terms of customization and creating and sharing playlists. If you are looking for more books, check out the premium version of Spotify. 
5. Hoopla
Hoopla is not a complete alternative to Audible. However, it is free to use for the majority of the services offered. Just like OverDrive, it allows you to rent or borrow books from various libraries. Thus, you will not be forced to pay a high price.
The user interface looks and simple to use for everyone. So, you should not expect a lot from the features and tools available when compared to Audible. However, if you have never used Audible, you will love to use Hoopla for being simple and clean.
Affordable Audible Alternatives
There are not much good free to use Audible alternatives in the market. Thus, you can try out the cheaper versions instead. Mentioned below are some of the great affordable alternatives to Audible that you can try out.
6. AudiobooksNow
As the name suggests, AudiobooksNow is another great Audible Alternative you can try out. As compared to other audiobook services, AudiobooksNow is a value for money option.
It offers you more than 120K titles to listen to on the go. You can fine-tune the interface for a better application experience like set timer, speed, etc.
Unlike Audible, AudiobooksNow offers you to buy a new book every month at 50% off. The application is available almost everywhere, including Android, iOS, Windows, etc. The pricing is competitive, starting at $4.99 per month.
7. Storytel
Storytel is one of the best options for Indian users looking for an affordable Audible alternative. With Storytel, you get a huge library of audiobooks and ebooks in multiple regional languages like Hindi, Marathi, Urdu, Bengali, etc.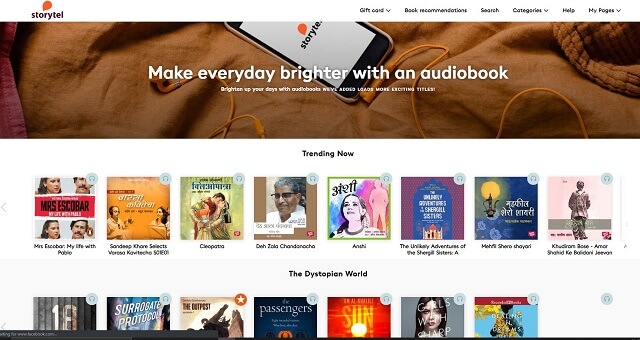 The user interface looks pretty clean and simple to use for everyone. You can enhance your listening experience using various tools like listening speeds, taking notes, etc.
Also, you can recommend books to friends and family via Social Media platforms. Not just that, the Kids Mode will help you with children listening to audiobooks. 
8. Scribd
Scribd is one of the best free Audible alternatives that you can get in the market. With over a million titles to explore in the form of audiobooks, ebooks, you will love to use Scribd. This application is a competition to Audible for a well-categorized library and amazing genre selections.
The user interface looks clean, minimal, and easy to use for everyone. You can set the listening speeds, timer before sleeping, etc., for an enhanced experience. Scribd offers a 30-day free trial and costs $9.99 per month post-trial.
9. eStories
Well, the eStories application is as cool as the name. It has more than 120K books to choose from various categories, genres, languages, etc. However, it is a bit costlier than other options on our list of best Audible alternatives.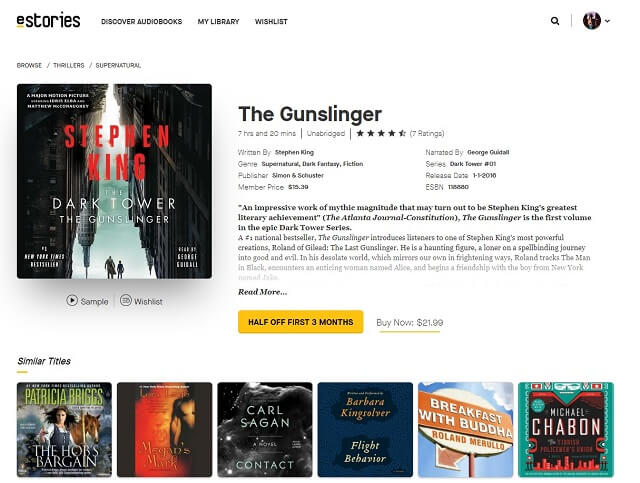 The eStories application is available to download on almost all platforms, including Android, iOS, etc. The subscription plans start at $11.99 per month that come in three categories, including basic, plus, and premium.
10. Downpour
Downpour is another option to check out for the alternative of Audible. It offers you to choose from more than 80K titles from around the globe. You can find almost any popular book to start listening to right away.
The application offers you basic tools like creating a wishlist, adjusting speeds of narration, etc. Not just that, you can make a quick note while listening to your favorite audiobook. As compared to other audiobooks on our list, Downpour is a bit costly at $12.99 per month.
Must Read:
Final Verdict
Audible is undoubtedly the best audiobooks streaming service available in the market right now. However, not everyone can afford their monthly subscription plans. Thus, if you want to save a few bucks, try out one of the best Audible alternatives from the list mentioned above.
Do let us know in the comments if I have missed your favorite free alternative. For more tech updates and crazy information, keep following Techoncation!