Looking for highest paying URL shortener sites? Well, then keep reading. Who doesn't like to earn some extra penny without making many efforts? Well, I think everyone loves it. Are you a blogger, YouTuber, Digital Marketer, or an influencer?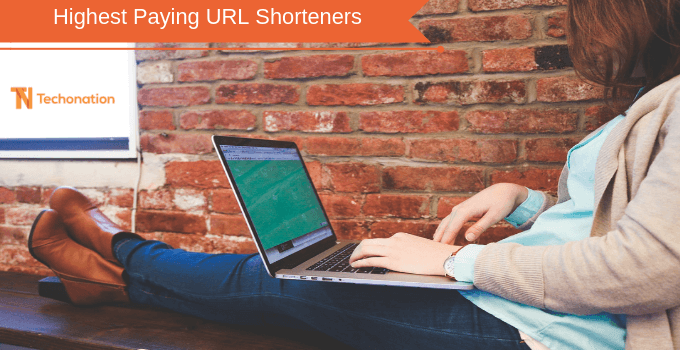 Then you will be efficiently generating some more money after this post. If you are none of the above, then no problem mate, this post is for everyone, and anyone can earn a decent amount of money by following this guide.
Today we will be sharing some best, trusted and highest paying URL shortener websites.
What Are URL Shortener Sites and How to earn From Them?
Well, the concept is straightforward and easy. For example, you have a URL say http://NormalURLlink.com, using URL shortener we convert long URLs into short like. http://short.url.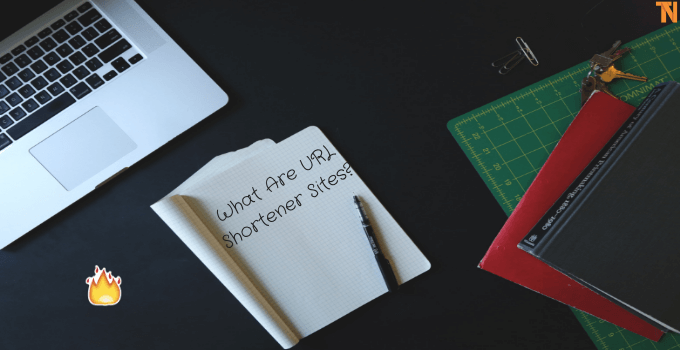 But how you will earn from it? Well, my friend, I'm also coming to that. When someone clicks on your shortened link, it will be redirected to a new page. On this page, the user will be shown some ads for 5-10 seconds (it varies from different URL shortener site to site). So now let us dive into the list.
Must Read:
Top 10 Highest Paying URL Shortener Sites
Well, these are most trusted and few of the best URL shorteners which pay well. You can make good money from these sites. You just need good traffic; if the traffic is from countries like USA, Canada, Australia, then you'll be paid high amounts.
1- AdF.ly – Best and Trusted URL Shortener
Adf.ly is one of the oldest and best URL shortener sites in the market. No list gets completed without Adf.ly. Additionally, you can trust this website blindly. Because it is still users favorite and it always pays on time.
Now talking about the money and views, then one can easily earn $5 to $10 on approx 1000 link clicks (views).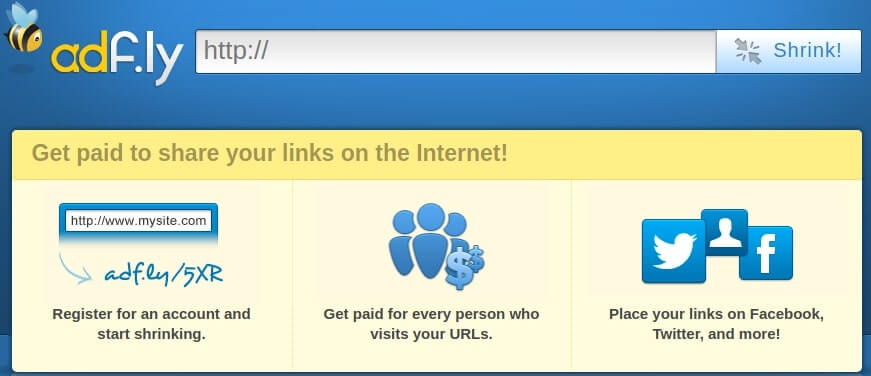 About their withdrawal system – User can withdraw their money on every 10th date of the month. Minimum Withdraw amount for PayPal is 5$, and for Payoneer, they pay out at minimum 20$ to the users.
Adf.ly also has a cool referral system, which allows users to make some extra money by referring to friends. You have to just invite your friends to adf.ly via your referral link, and you will get 20% of the money they made. For example, f your friend makes 100$ then you will also get 20$ in your adf.ly account. Isn't it interesting?
2- Shrtfly.com – Best URL Shortener
Shrtfly also pays money for the short URL like all the other mentioned websites. It pays $3-$14 on 1000 views, yes it is good in comparison with the other sites mentioned in the post. Shrtfly is a trusted website. It is one of the highest paying URL shortener websites.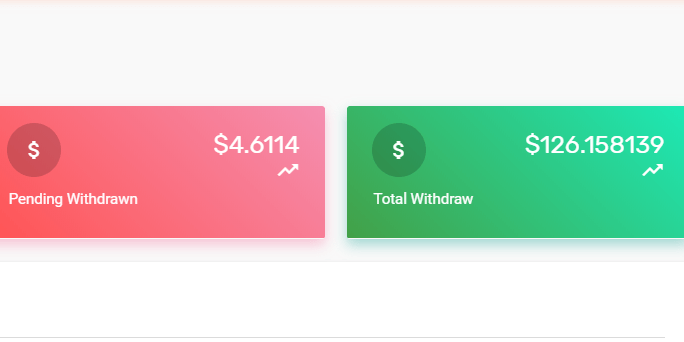 It requires minimum 1$ to withdraw money. And Users can take money in PayPal, bank account, paytm etc. Coming to the referral part, they give 30% of your friend's income. After the successful signup from your referral link.
Also Check: Best Sites like Craigslist
3- Shorte.st – Everyone's Favourite URL shorter
Shorte.st is also one of the famous and old URL shorteners. It comes up with a lot of useful tools and ways to make long URLs short and earn money. If you are a blogger, then you can also use their WordPress plugin which will help you to increase your earning.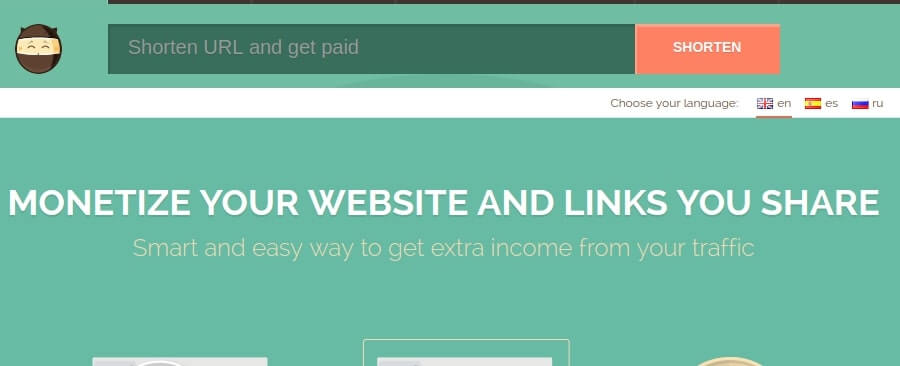 Using Shorte.st you can easily make up to $5-$15 for 1000 views/clicks. You can withdraw your money with a minimum payout of 5$ in PayPal, $20 for Payoneer and $5 for WebMoney. Every month on 10th date, the payment is sent to the users.
Shorte.st also allow to refer people using your referral link. You can earn 20% of the people you referred. Means you will get 20% if your friend earns 100$. It is one of the best URL shorteners to make huge money.
4- ClicksFly -Best Modern URL shortener
Well, if you are serious to make money from URL shortener services. Then ClicksFly is the perfect match for you. The best thing about them is the minimum payout. You can withdraw your money once you reach 3.5$.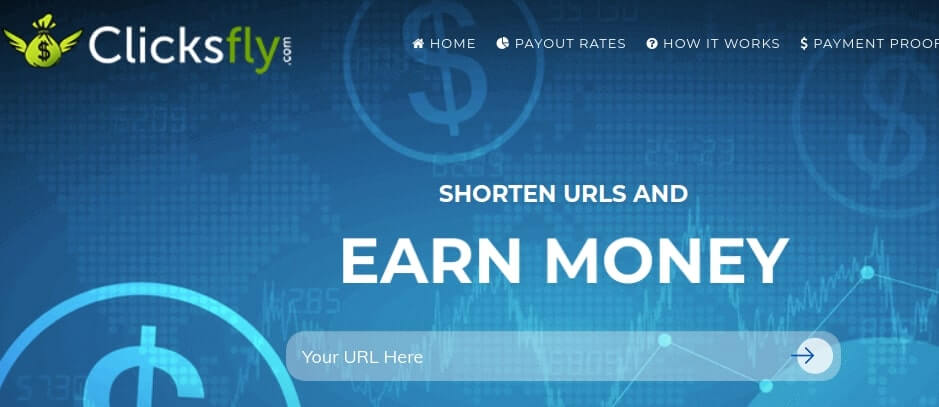 Additionally, they allow users to withdraw money in PayPal, Paytm, Bank transfer, Bitcoins, Tez/UPI, etc. Isn't it interesting? It is exciting if you want to make quick money over the internet by merely sharing short URLs.
Their easy to interact dashboard makes it understand about your earning, CPC, RPM, etc. They also allow everyone to use their API. So if you are a developer, you can also make easy money using their API service for URL shortening.
Also Read: Exe to Apk converter
5- Shrinkearn – Another Good URL shortener
Shrinkearn is also in the list of highest paying and best-trusted URL shortener service provider. You can easily make $3 to $20 on 1000 clicks on your short URLs.
The best thing about Shrinkearn is that it also counts multiple link clicks or URL visits from the same IP up to 10-15 times. Which helps to boost income.

There are a few excellent features, which makes Shrinkearn trusted like good Customer support, Fast payouts, low amount withdrawals, etc. Users can withdraw their money when it reaches a minimum of $5, to their Paypal, payza or Bitcoin. They also offer to refer and earn system, which you can use to increase your income.
6- Clk.sh – New upcoming URL shortener
Clk.sh is one of the new and best URL shortener sites which can be used to make good extra income. Clk.sh has a unique feature of Real-time Analytics or tracking of your short URLs. So that you can check out stats.

You can easily earn up to $20 in 1000 clicks using Clk.ch URL Shortener. And you can withdraw your money when it reaches $5. It has a good payout system. They pay money on a weekly basis.
7- Shrink.pe- Trusted and Highest Paying URL shortener
Shrink.pe is another legal and best website for earning money through short URLs. It is also a great alternative to Adf.ly and shorte.st.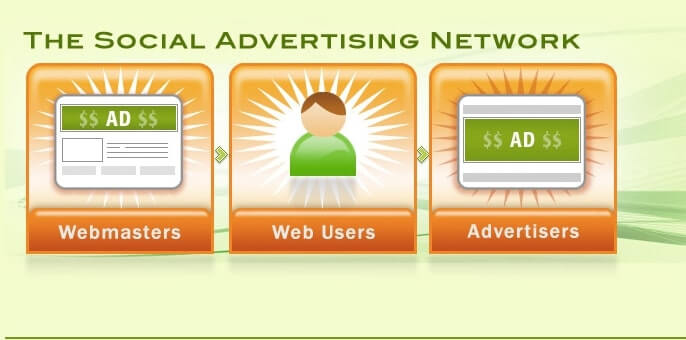 Shrink.pe Pays users between $1 to $20 for approx 1000 link clicks. This Price keeps differing from locations of link clicks. The minimum amount of withdrawal at Shrink.pe is $5.
And payments are sent to the users PayPal account, as soon as they cross the minimum threshold amount. Their Referral also works as the other URL Shortener networks, but they provide 10% of each person's revenue you referred.
8- Ouo.io – Best URL Shortener
Ouo.io is also a great and highest paying URL shortener, and you can easily make money by sharing short URLs on forums and websites.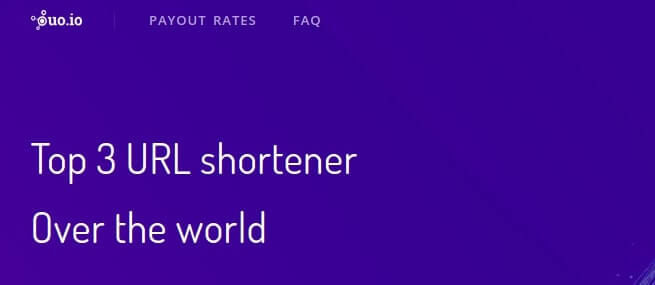 The minimum amount of withdrawal in ouo.io is $5. And they give payout on every 1st and 15th day of the month. Users can receive their money in PayPal and Payza.
Additionally, you can also earn 20% of your friends income, when they joined using your referral link on ouo.io.
9- CPMLink.net – Easy URL shortener To Earn Money
If you are into URL shortener, then you must give a try to CPMLink. It is one of those URL shortener services which has grown very fast and develop trust among users.
Just Go to CPMLinks, signup for a new account and start shortening long URLs. And share them on the internet and get money when people click on them.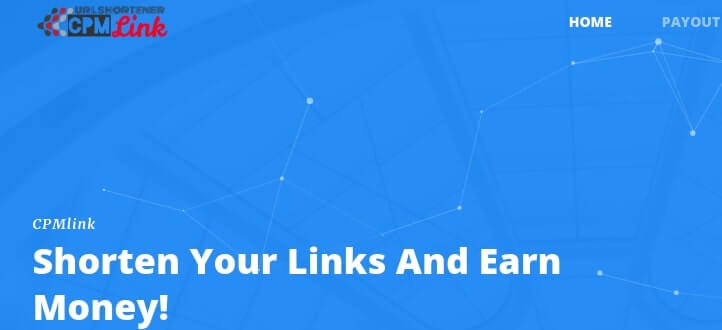 CPMLink gives approx 1-5$ for 1000 link views (it differs from country to country). And they payout money users daily to Paypal and bitcoins.
You can also earn a lifetime 10% commision on referring people through your unique referral link. It is one of the best URL shortener sites to earn money online.
10- Al.ly – URL Shortener Service
Don't underestimate this website, as it is last on the list. Al.ly can also help you to make some reasonable amount of income through sharing short links.

The good part is that for withdrawing their minimum requirement is $1. And User Can receive money in Paypal, skrill, Payoneer, and payza.
Apart from earning from URL shortening, you can also receive 20% of commission if someones join Al.ly under your referral Link.
Must Read: Best Sites like Solarmovie
Summing Up
I hope you will be trying all of the above highest paying URL shortener websites. And If you know any other trusted and best URL shortener then let me know in the comment section. If you have any doubts, then leave them in the comment section.
If you find this post helpful, share with other peoples and friends on whatsapp, facebook and other Platforms so that they can also earn some extra money online.