uBlock Origin vs Adblock Plus: Did you know? The companies spend more than $500 billion on advertisements per year worldwide. Most of the companies like Google, Facebook, Yahoo, Bing have the primary source of income is online advertising.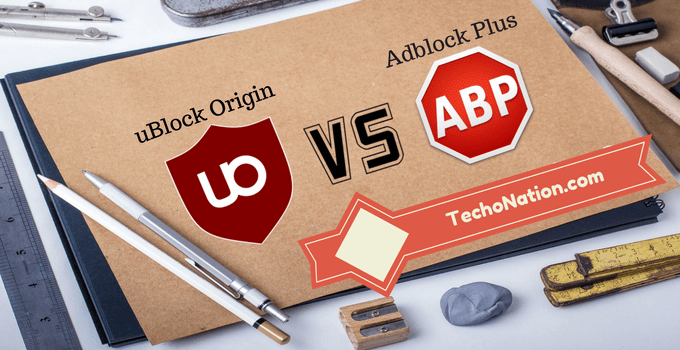 The Blind promotion of companies results in more advertisements and more irritation to users. Sometimes browsing becomes more complicated than a user expects.
Whenever you are trying to download your favorite music from music sites, movies from online movie sites, games, or apps from apk sites, your one click on the download button gives birth to irritational pop-ups. Is not it?
Why Ad Blockers originated?
Many times we have noticed that whenever we open a link from a web page or open an unknown website, we are bombed with so many advertisements. They either directly come up on the web page itself or open in a new tab (pop-ups).
These annoying ads are dangerous, as some of them do evil work of spreading viruses, doing phishing, malware, keyloggers, etc.
As a result, much-specialized software and ad blockers born. There are many ad blockers in existence as of today.
Some of them are available for a single platform, like Windows, iOS only. While some of them are available for many different platforms. The big names are uBlock, Adblock, uBlock Origin, Adblock Plus, etc
You may also like- Best iOS Emulators for Windows PC.
Whether to use the AdBlockers or not?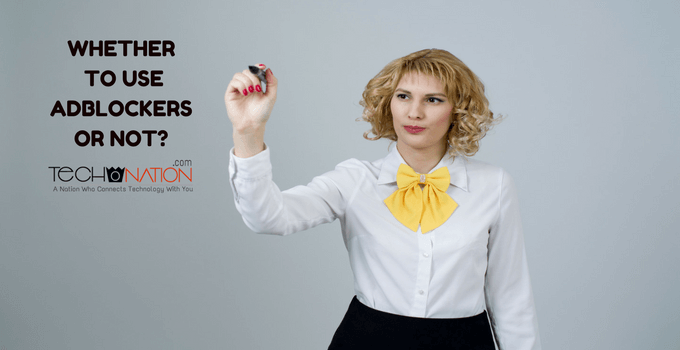 Although the usage of Adblockers is gradually increasing, still, there is a debate about whether we should use them or not.
Advertising has become very aggressive in today's time and may grow more. The advertisers are trying to find more crowded online places to show unwanted ads to irritate the users for their profit. The majority of people prefer to use ad blockers to get rid of these ads.
People are finding more reasons why ad blockers need to be used rather than why not. The ads are irritating and annoying. They create security issues for PC and smartphones. They mostly affect bandwidth usage and load time.
People tend to use free content instead of paid, and see the ads. So they find it better to use the free ad blockers instead of paying for the content. They always search for better adblockers and quality free VPNs for doing their job.
Some of the ad blockers are untrustworthy and suspicious, that's why some people hate them. While these two adblockers are good ones. On the other hand publishers and YouTubers earning their living from online advertisements.
Using adblockers may put a black effect on their lives as they are producing valuable content for the users in exchange they are showing some ads for earning money.
You may also like How to install Dolby Atmos on Android without root.
uBlock Origin vs Adblock Plus Comparison
Moving on to the ad blockers, let's compare two of the free ones, not the ublock vs ublock origin or AdBlock vs AdBlock plus comparison, as they are a bit similar in some aspects.
Adblock Plus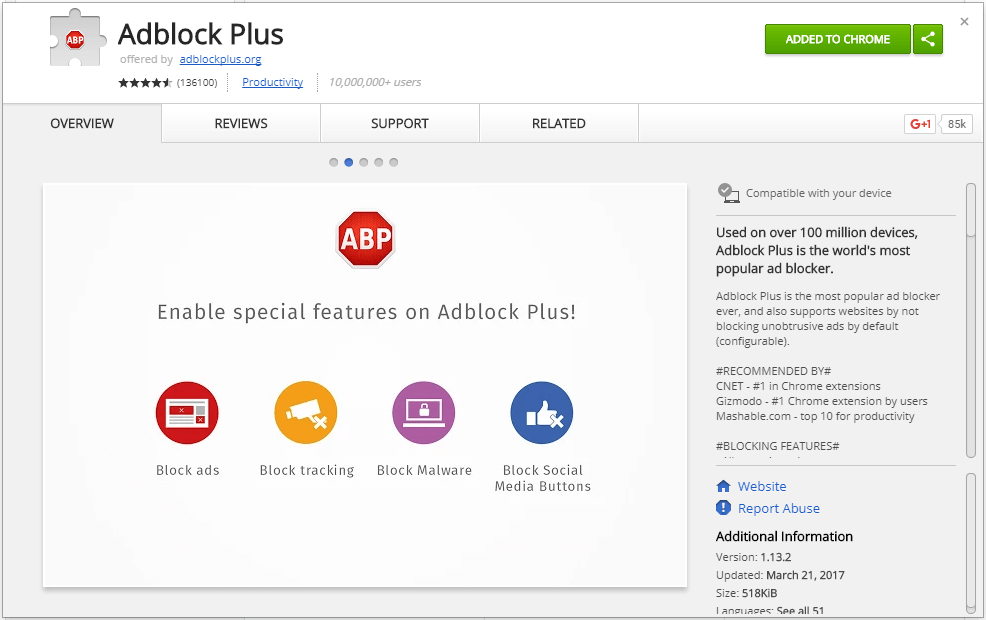 Adblock Plus is a free extension that was created by Vladimir Palant in 2006. It is an open-source project licensed under GPLv3.
You can block annoying ads, prevent the malware from spreading domains and disable tracking, etc. This extension is entirely different from the Adblock extension.
uBlock Origin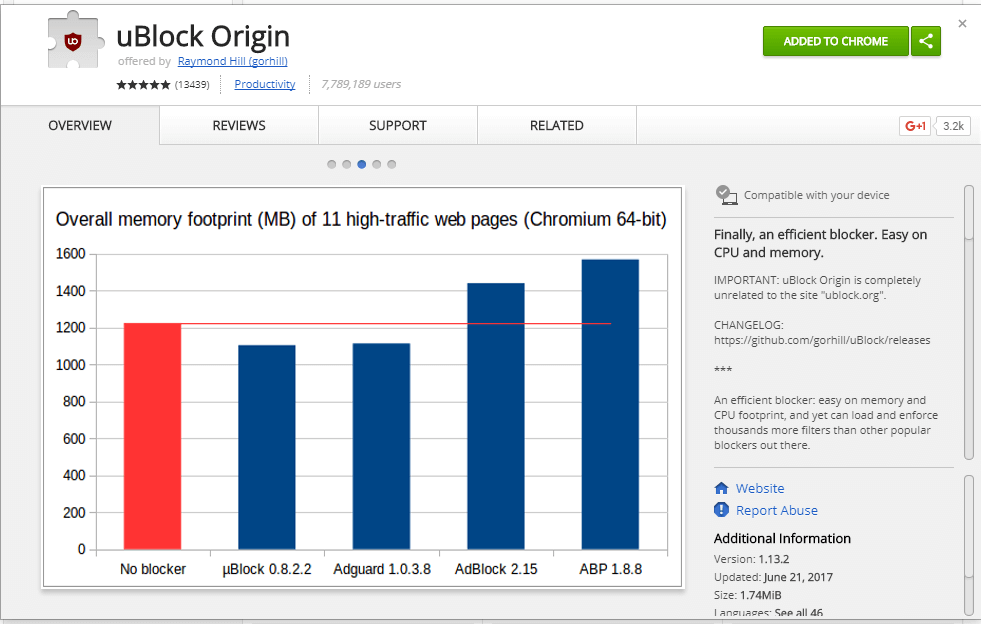 uBlock Origin was first launched in June 2014 by Raymond Hill. It is written in JavaScript and licensed under GPLv3+ unlike Adblock Plus, and uBlock Origin also refuses any donations. There is a difference between uBlock Origin and Ublock.org.
Popularity and Availability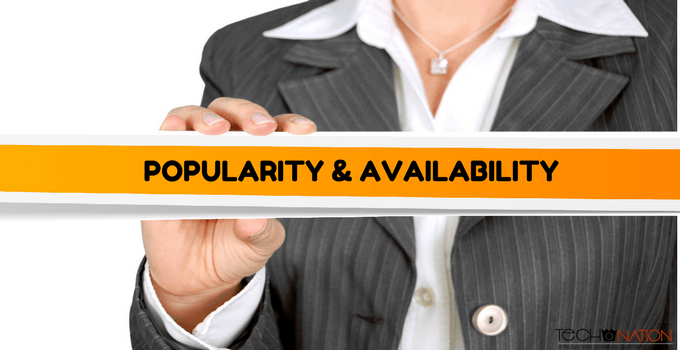 The Adblock Plus was released eight years earlier than the uBlock Origin extension. But, in popularity and the number of users, it is quite ahead of uBlock Origin. Both the software are available for free and are open source.
The uBlock Origin is available for Chrome, Firefox, Safari, Chromium, Microsoft Edge, and Opera as an extension.
Whereas Adblock Plus is available for Android, Firefox, Internet Explorer, Chrome, Opera, Maxthon, Safari, and Yandex browsers as an extension. Adblock Plus is available for more browsers, notably for Internet Explorer too, as some people still use Windows XP.
However, uBlock Origin has gained more users and popularity in the last three years. A joint survey recorded 800% growth of uBlock Origin. Still, Adblock Plus is available for more platforms, and it is one of the most popular adblocker.
Champion: Adblock Plus
You may also like- How to get iPhone emojis on Android without root.
User Interface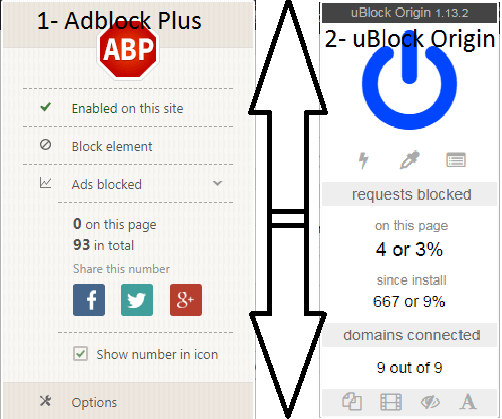 Continuing with the ublock origin vs AdBlock plus comparison, the navigational easiness of the extensions depends on how quickly you understand the user interface.
The uBlock Origin has a very minimalistic design and clean UI. Just a big start/stop button at the top of it, then some stats about requests blocked to date, connected domains, etc.
The Adblock Plus extension has a similar enable/disable button in it; along with stats about blocked pages, currently, as well as total till the date, and an option to share these stats on Facebook, Twitter, etc.
Both the UIs are easy to use, not any difficulties there. However, the easy layout of uBlock Origin is more pleasurable.
Champion: uBlock Origin
Read: How to hide apps on Android
uBlock Origin vs Adblock Plus Settings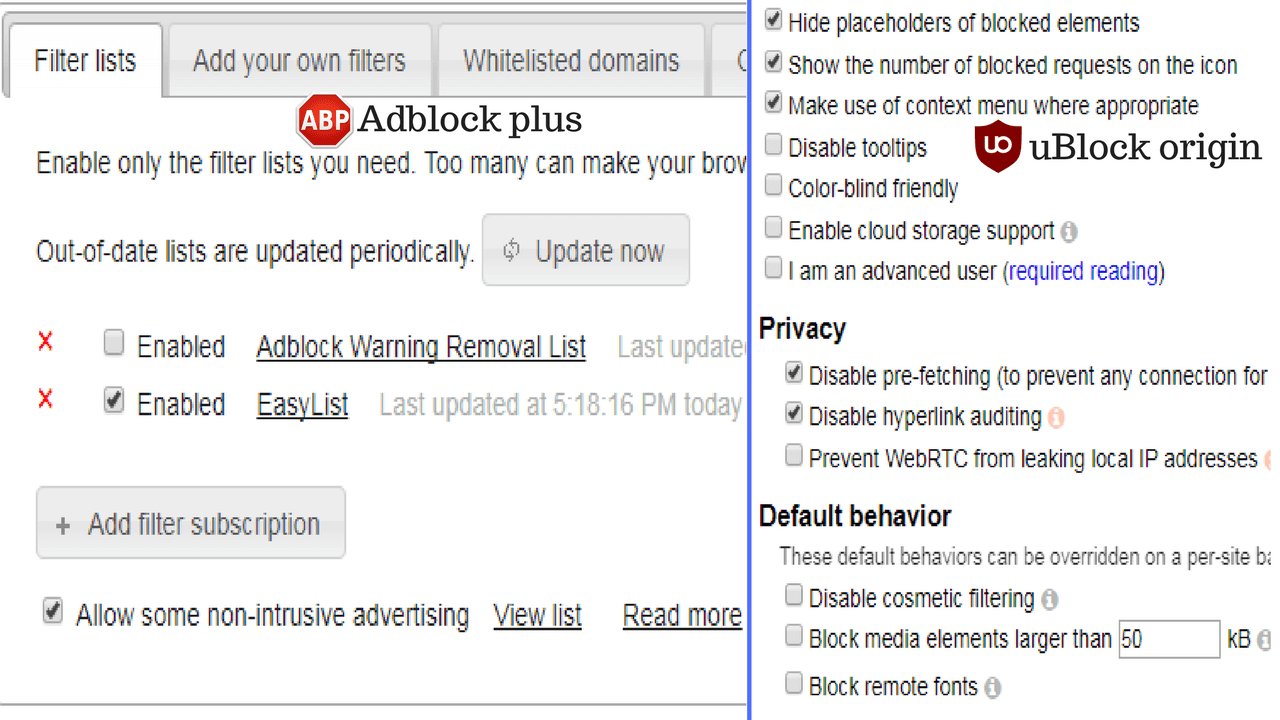 Let me remind you that we are not doing any ublock vs AdBlock plus comparison, it's of ublock origin vs Adblock plus. As uBlock and uBlock Origin are two different ad blockers.
The settings feature will determine how easily the user will be able to use these extensions to their full potential. The uBlock Origin has 6 tabs in the settings section.
They are General Settings, 3rd party filters, My filters, My rules, Whitelist and About. You just have to check/uncheck most of them. Whereas Adblock Plus has 4 tabs; Filter lists, add your filters, Whitelisted domains, and General.
It is a bit messy and complicated than the uBlock Origin.
uBlock Origin has some more settings, and it is the most lucrative option for power users. However, it will increase the CPU usage if you are trying to apply more filters. If you are a lite user, then Adblock Plus is worth considering.
Champion: uBlock Origin
Check How to fix wifi connected but no internet access.
Functions and Features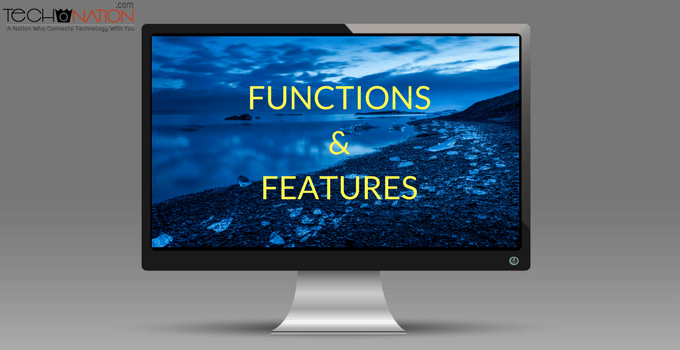 This AdBlock Plus vs uBlock origin comparison now comes to the most crucial aspect here.
The Adblock Plus itself does not have any functionality; instead, you have to tell it what to block, by adding external filters; besides having some lists enabled like EasyList and Acceptable Ads List.
The uBlock Origin uses the majority of Adblock Plus's filter syntax for blocking ads. They also enabled the subscriptions of EasyPrivacy and EasyList. Thus, here the uBlock Origin gets the point and takes advantage over the Adblock Plus extension.
The uBlock Origin has new functionality that assists people with color vision deficiency. It also comes with further dynamic URL filtering and interface enhancements with a new DOM inspector.
In the Adblock Plus, apart from blocking ads and allowing some pleasant ones, you can also disable tracking, malware domains, and social media buttons.
These are handy features that the uBlock Origin doesn't have. These help speed up the browser and the computer. However, some surveys and user reviews have found that uBlock Origin eats fewer resources than Adblock Plus.
A benchmark test with ten blocking extensions showed the uBlock Origin to be more resource-efficient. It will eat fewer resources than Adblock Plus.
Which is more feature-rich in uBlock Origin vs Adblock Plus? No doubt it is uBlock Origin.
Champion: uBlock Origin
Check out How to recover deleted photos on Android.
uBlock Origin for Android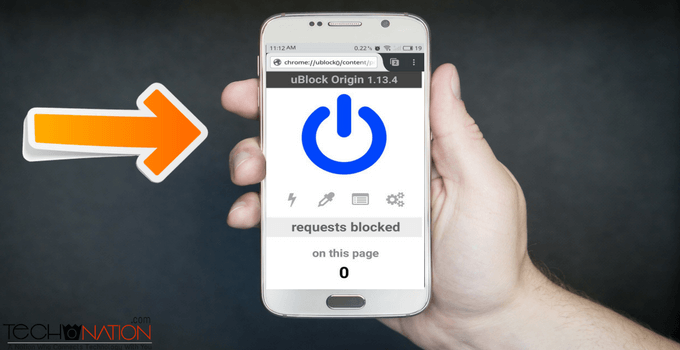 Well, you might be thinking that what to do when we are browsing on an Android smartphone or tablet. Here comes a handy uBlock Origin Firefox add-on to take care of our browsing experience on Android devices.
You just need to install Firefox browser for Android; then you can easily install the uBlock Origin add-on on it as we do on our windows browsers. It will do the same job as it is doing on Windows browsers. The best thing is that you don't need to root Android device for using it.
Note: uBlock Origin is better in most of the segments but that doesn't mean Adblock plus is not a good adblocker. Well, these 2 are best in the industry. You can use both of them one by one and figure out the best one for you.
Alternative Adblocker for Android:
https://www.youtube.com/watch?v=d0wo8wv12KQ
Conclusion
Well, it was a debatable comparison between ublock Origin vs Adblock Plus. uBlock Origin dominated most of the segments. You can either use one of them; you won't notice much difference in your browsing experience.
If you are using one of these ad blockers, there is no need to switch, as the primary aim of these Adblockers is just to block the annoying ads as much as they can. If you want an ad blocker with a simple layout more settings and features then uBlock Origin is worth considering.
Adblock Plus is not a bad option though; it depends on you which are the things you want in an ad blocker. I am using uBlock Origin for a few months, and it's my favorite as of now.
Share the article with your friends and family if you found it useful. Still, confused? Leave your precious feedback below I will respond within minutes.