Are you looking for the best games under 10 MB for Android? Well, if yes, then you're in the right place. Being the most used and most popular OS for smartphones, Android has been doing great in the gaming industry.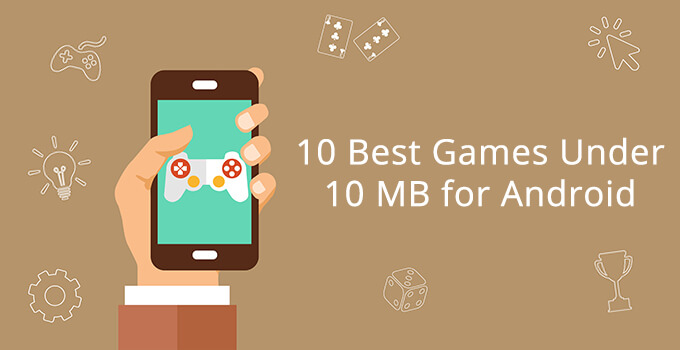 In the past couple of years, we have encountered tremendous growth in the Android gaming industry. Not just for professional gaming, people often play games for entertainment and fun activities.
Scientifically proven, gaming helps to reduce stress and improve one in better concentration. However, a lot of Android users face a problem in downloading games that exceed the available storage limit.
To resolve this issue, I researched on the Play Store. I have found some astounding games that one can play without exceeding limits. Mentioned below are the 10 best Android games under 10 MB.
10 Best Games under 10 MB for

Android
The list of games under 10 MB can go on and on. However, I have segregated the ten best games under 10 MB that one will thoroughly enjoy playing. I have also shared the best city-building games.
1. Modern Sniper
Modern Sniper is one of the lightest shooting games I have come across to date. It has got fantastic graphics based on the fact that the size is less than 10 MB.
Talking about the storyline, your character acts as a sniper. He is on a mission to kill enemies in various assassin missions. With over 50 shooting missions, it is a complete package of entertainment.
One has the option to choose from six different unique maps along with the character. Also, you have the option to choose from seven different weapons while playing, including their upgrades.
With over 50 million downloads, the exact size of Modern sniper is 10 MB. Try it out on your Android device from the link below. Recently, I have shared the best PPSSPP games for Android.
2. Dr. Driving
With over 10 Million downloads on Play Store, Dr. Drving is one of the most popular Android games today. Developed by Studio Up Down Inc., it is one of the best games under 10 MB to play on an Android device.
This game is a driving simulator where one can learn how to drive. This includes switching gears, turning the vehicle, parking the car, etc. It offers you with city missions and various challenges to play along.
A lot of gamers appreciate the realistic specs and tweaks available here. If you are looking to play a driving or racing game without exceeding the storage limit, Dr. Driving is the best option.
3. Racing Moto
As the name suggests, another pick for racing games, Racing Moto, is a fantastic game under 10 MB. An easy and fun to play a game, it is available for just around 7.4MB on Play Store.
This package is a complete set of unlimited entertainment as there are no missions. One can play for as long as one can think of. You just need to accelerate the bike and tilt your phone to control the direction of the handle. To increase the speed, make sure you cross close to the vehicles. 
One needs to earn points by scoring, which further helps to purchase more bikes. Fun, easy and simple, isn't it? Well, this is one of the best racing games you can get under 10 MB. Also, check out these games like Skyrim.
4. Shoot Bubble Deluxe
Shoot Bubble Deluxe is a game that almost all of us have played at some time or the other. It demands just 2.3 MB of space on your Android smartphone.
One needs to clear fields of colored marbles by grouping like colors in a group of three or more. This way, you will clear various levels of the game one by one. You win only when there are no more marbles left on the field.
This classic gameplay offers you two different modes viz., the arcade, and the puzzle. You can always entertain yourself with this fun-loving game. SBD is one of the best games under 10 MB for Android phones.
5. Cricket Black
Cricket, what is there to talk about this game. All of us had played gully cricket at least once in our lifetime. This game is a complete package of entertainment as it is lightweight and easy to play.
With a quick response and interactive user interface, the game demands just 2MB of space from your phone. Being famous for its realistic rules of the game, it has crossed one million downloads. If you are a fan of cricket and don't want to exceed the storage limit, this is the game you should play.
6. Zombie Attack 2
Zombies are something none of us likes. We have been killing them for so many years now. One such game where you need to kill zombies is the Zombie Attack 2. A shooting adventure with action moves; this is one of the best adventure games one can get under 10 MB.
Talking about the graphics, the developers have kept them simple with 2D cartoony looks. The game offers you four different world and map-based shooting adventures. You have eight heroes to choose from with different unique weapons.
With eight zombie bosses and 24 different helping zombies, you need to kill them all to complete this game. Interesting, isn't it? Guess what; this complete package comes boxed in just 9.2MB.
7. Crazy Racer 3D
Being famous for its visuals and 3D graphics, Crazy Racer 3D has been winning hearts. The developers have tried to match the interface and handling with that of the Asphalt series. This was done to offer you a high-performance experience.
With over 24 race tracks to choose from, you have three game modes viz., chase, career, and linear racing. Along with the login rewards, you get to avail yourself of the experience of fighting and racing at the same time.
To grab a game with missions to complete and earn points to compete, Crazy Racer 3D is one of the best games under 10 MB.
8. Break the Prison
Being one of the most trending games amongst Social Media peeps, Break the Prison is an arcade game. Developed by Candy Mobile, it has over 10 million downloads on Play Store.
As the name suggests, one needs to break the prison with a sure-shot plan. One needs to build up tools, solve exciting puzzles, and do a lot more to escape.
With eight themed cells, there are more than 40 levels to clear. This clearly states that the game is pretty challenging. To freshen up your mind, this is one of the best mind games you can play under 10 MB.
9. Caveman Adventure
Caveman Adventure, as the name suggests, is an adventurous story-based game. The gameplay starts with a caveman whose son is kidnapped by a dinosaur. He starts running through the jungle to find the dinosaur. Once you reach the dinosaur by clearing all the hurdles, rescue the son.
The developer offers you twenty different stages and four unique worlds. The player gets various power-ups and ready to face challenges. With the cartoony 2D graphics, it is a perfect adventure game to freshen up yourself.
10. 100 Ways to Die

 
Oddly named, 100 Ways to Die is the best time-based game under 10 MB that I found on Play Store. This game is hilarious and scary at the same time. A task is given to the player. He/She needs to complete that task before the time runs out to save the character.
This game has more than 24 challenging mini-games to freshen up your mind. With good enough graphics and animation, no other game can beat this one under 10 MB. This is based on the fact that it is adventurous, hilarious, and scary.
Final Verdict
Android smartphones have millions of small or big games available on the Play Store. However, to find the best games under 10 MB, it'd be difficult. Hence, I researched it for you.
Do play them and let us know your experience in the comments below. If you think I missed any exciting game, comment down. I'll try to include them on our list!