Do you want ios emojis on Android? Use these three methods to get iPhone emojis for Android phones with and without Root in 2023.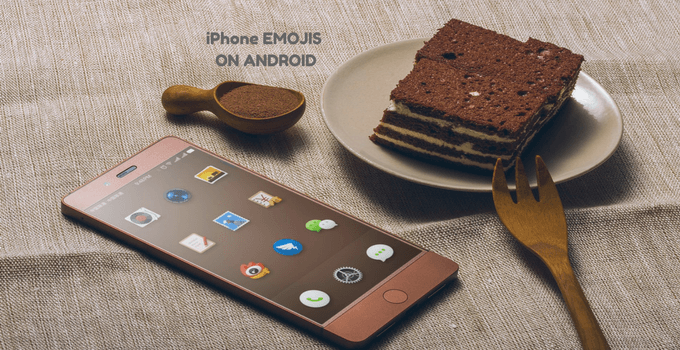 It was 1998 when "Shigetaka Kurita" invented Emoji 🙂 while working in a large Japanese mobile communication company, "DoCoMo." With the rapid growth in the smartphone industry, emoticons have grown up to a greater extent.
We use emojis most of the time in our day-to-day conversations to express our feelings,  no matter it's a Facebook comment or WhatsApp message. Nowadays, all types of devices in the industry support emojis.
Why Get

i

Phone 

E

mojis For

A

ndroid?
Android has its emojis, but those are dull and less expressive, while iPhone emojis look great. And best to express yourself; this is the reason most of us want ios emojis on our Android devices.
On the other hand, emojis on Android are feeling less and confusing. There are no signs of particular emotions in android emoticons. Recently I have shared how to track mobile location easily.
You may also like-
H

ow

T

o

G

et

i

Phone

E

mojis

F

or

A

ndroid?
There are several guides available on the internet on how to get ios emojis for android. Honestly, during the research for this post, I have tested, and most of them are not working on what they are doing that they offer some apps to download.
Those apps don't help us to get ios emojis on Android. Instead, those apps can only change the look of emojis on the keyboard. When you type an emoji, it will remain the same. I have mentioned three methods below, which can help you get new ios 10 emojis on Android. Recently I have shared best-Xposed modules for Android.
Method-1: Changing Emojis Font  [No root]
Don't want to root your android phone? But still want your hands on iOS 8, 9, or 10 emojis, then you should try this method. Also, check the best Android emulators.
Every Android has its default fonts. Some phones have a feature to change fonts, while some require root access to change the default fonts of the device. 🙂
Samsung, Htc, Huawei, Xiaomi, and some other brands' devices have a feature to change fonts without root. Most of such devices are running on Android 4.4 or above version.
If your Android device doesn't support the font changing feature, then check this guide to change fonts without rooting. In case your device has a font change feature Lets' dive into the iOS emojis world.
Step-1
Go to settings, then security, and enable "unknown sources." This option can be found in various locations depends on your device.
Step-2
Download and install Emoji Font 3 apk from the below download button. If the button is not working, please let me know via the comment box.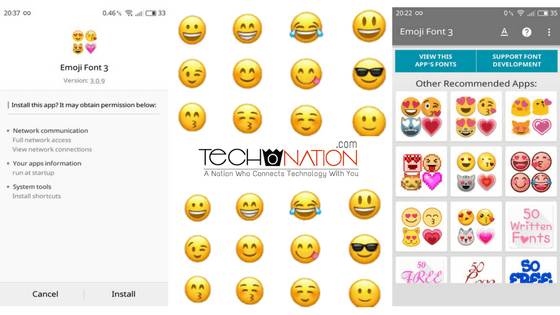 Note: Emoji Font 3 app is kicked out from play store due to copyright issues with Apple. Just download it from above link and install it.
Step-3
Change the font style of your device to Emoji Font 3.  You can do it from the settings of your Android device. Check out the below-mentioned location, and you will find out that feature.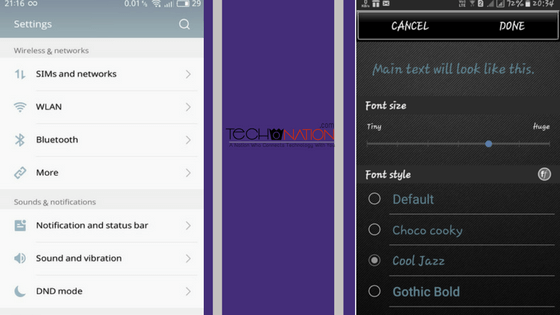 Samsung users– Go to settings<display<font.
HTC users– Go to settings<display<gestures.
Other users– Go to settings and find fonts feature.
Step-4
Download Google keyboard from the play store and enjoy new ios emojis on your android phone. Why google keyboard? Because it has easy to access emoji switcher button. Another thing is it's the smoothest one, in my opinion.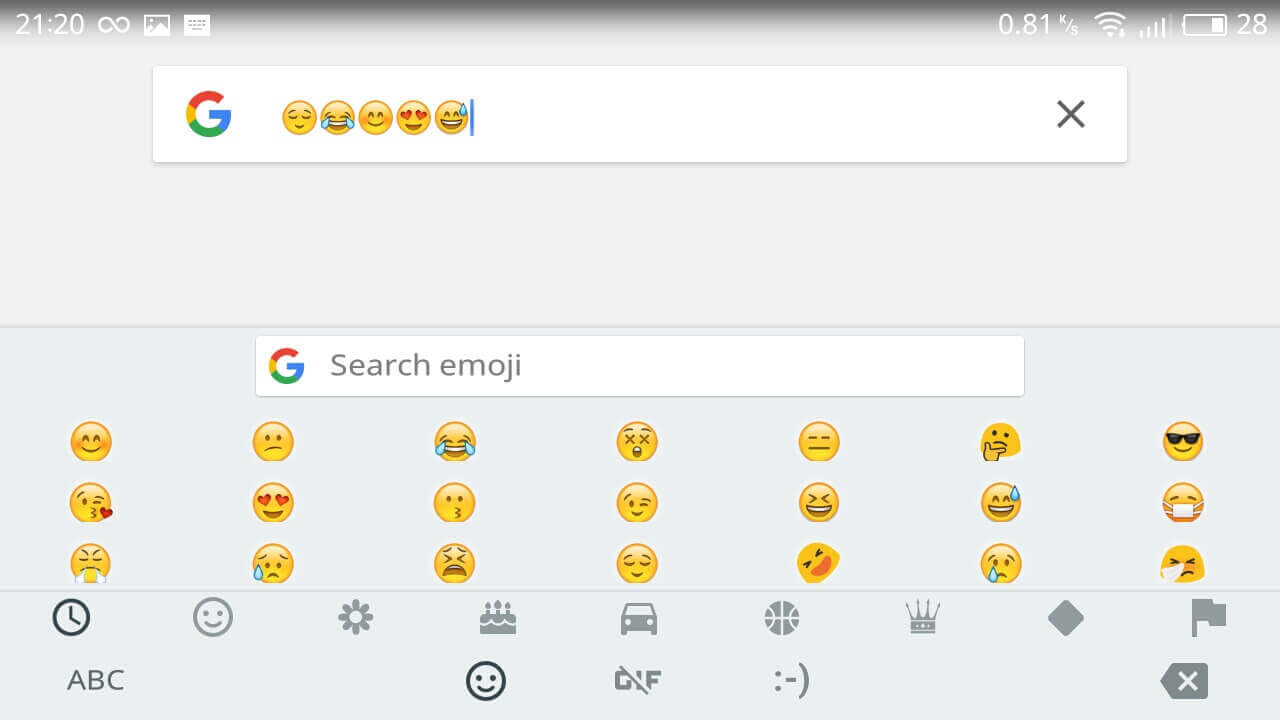 NOTE: Samsung and HTC devices running on the Android version higher than Lollipop 5.1 will need emoji for flip font 5 version instead of emoji for flip font version 3.
Method-2: Changing Emojis with Emoji Switcher [Root]
Honestly, it is the actual way to get iPhone emojis for android phones. This method can change the sources of emojis in UI. You should root your android device to get this plan to work for you.
Unlike the above method, this will change all the android emojis to iOS 10 emojis. Apart you can change current android emojis to nougat emojis and a lot more. So let's drive the route to iOS emojis.
Step-1
Download and open the Emoji Switcher app [Root].
It will ask for root access "allow" it. Granting root access is easy if your device has SuperSU.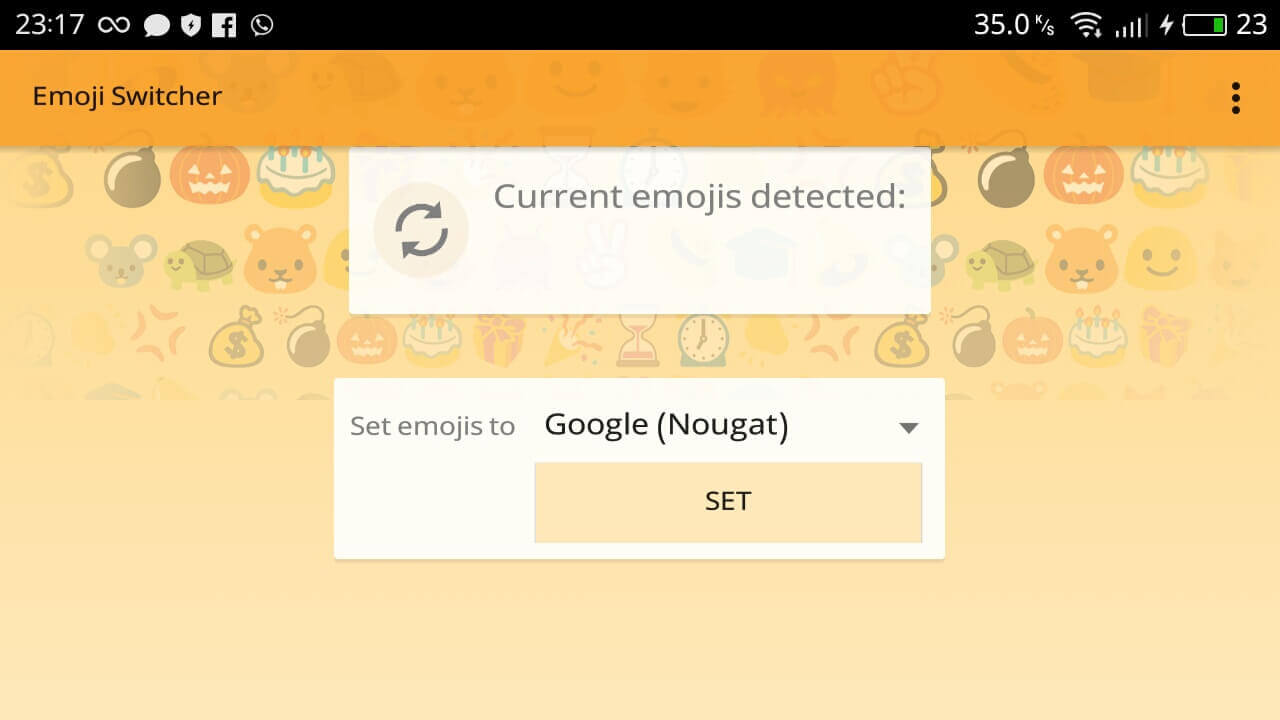 Step-2
Select iOS 10.2 emojis and click on set. You can also try other variants to find out the best emojis for you.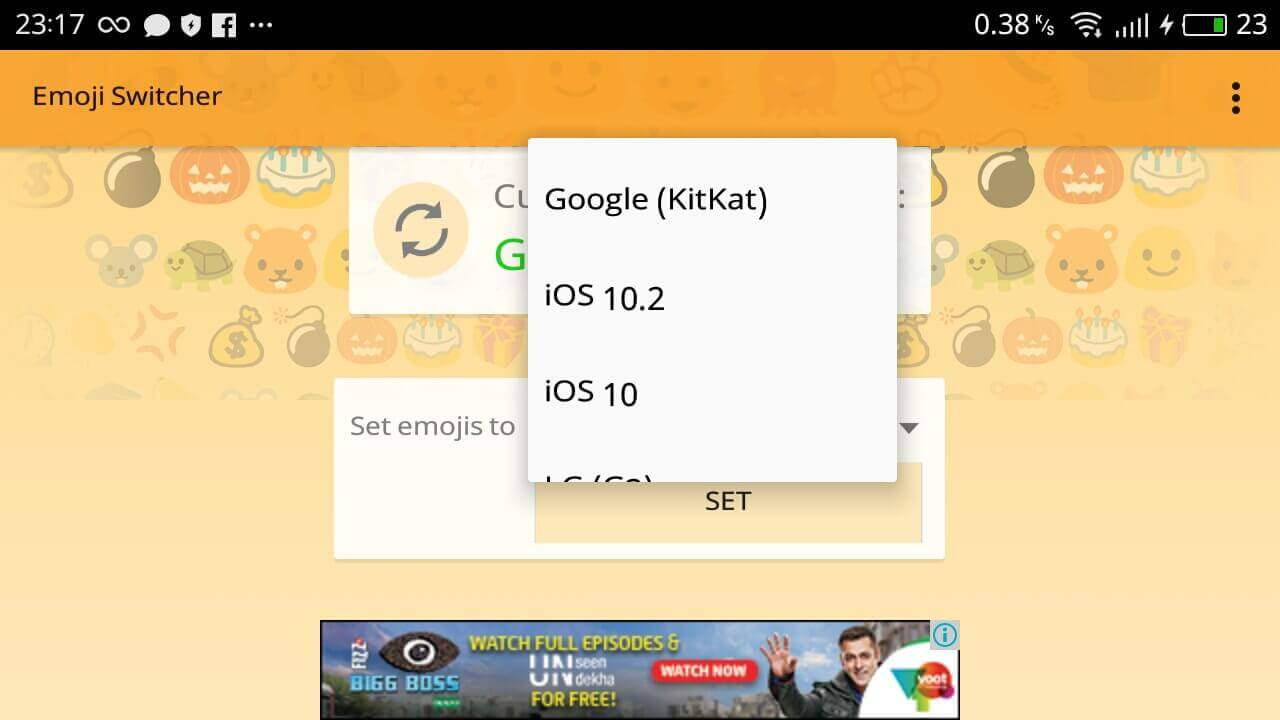 Step-3
Let it install ios emojis font, then click on reboot. After the successful reboot, you will get ios 10 emojis on your Android device. If anything goes wrong or you are facing any error during the whole process, just leave your query below in the comment section.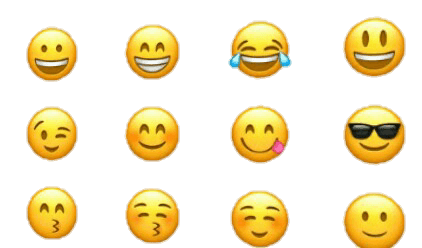 Method-3: Force Changing Fonts to get iOS styled emojis on Android [Root Required]
Suppose you are thinking about why I am talking again about the first method. Sorry, friend, I am not. Number 3 is the exclusive method for those devices which don't support changing font.
In other words, if your Android device doesn't have a setting called fonts, then you should follow the steps to get new iPhone emojis for android devices.
Step-1
Download and install Emoji Font 3. The installation process is the same as other Android apps.
Step-2
Download and open iFont (Expert of Fonts). iFont is one of the best Android apps to change fonts with ease.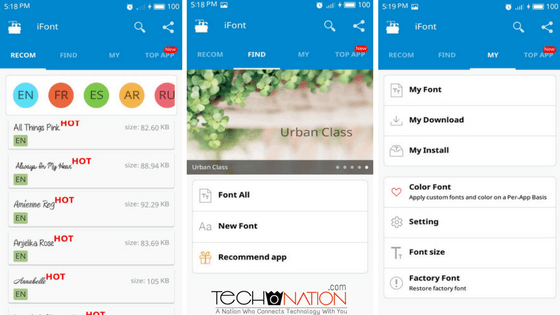 Step-3
Click on My from the top navigation. See the below screenshot for a better understanding.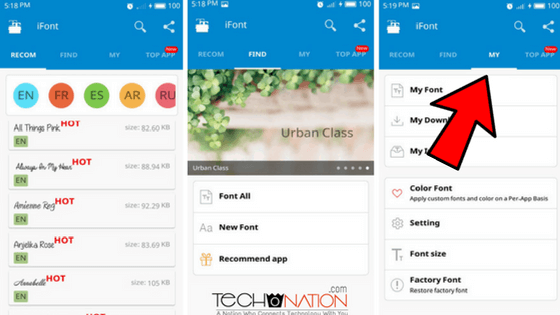 Step-4
Now click on My Install and select Emoji Font 3.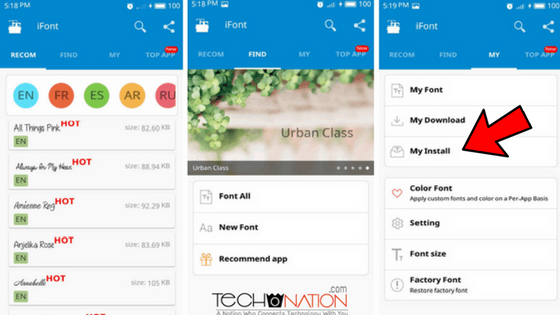 Step-5
Press Set and select English language, then hit the ok button.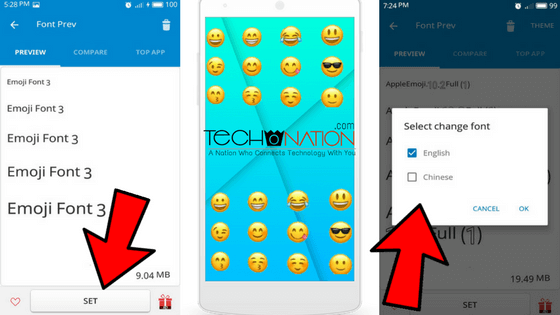 Step-6
It will ask for permission to change fonts allow it by clicking ok.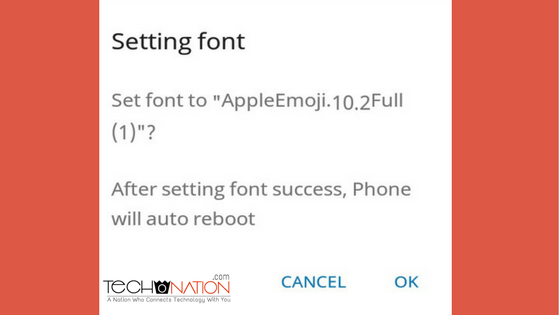 Step-7
After a successful reboot, you have Apple emojis on Android devices; enjoy. You can select other emojis also if you want different ones like Android oreo emojis or various iOS versions emojis.
NOTE: Make sure you have set font mode to system mode in the iFont app. Don't know how? Well, I am here my dear friend, open iFont<select My from top navigation bar<click on settings <click change font mode and set it to system mode. Also, make sure you have given root access to iFont when it will ask.
Verdict:
I hope you guys have enjoyed this step-by-step guide to get iPhone emojis for android phones. Rooted phones have a plus point because you have complete freedom to kick out old android emojis and replace them with new Apple iOS emojis.
If you have found something useful in the post, feel free to share it with your friends. Still, have any doubt or suggestions leave your precious reply below I am waiting for your feedback.