Are you looking for the best Camscanner alternatives for Android phones? If yes, then you are in the right place. Today I will share the 7 best apps like Camscanner for Android  & iOS. You can do various things using your smartphone that can be pretty handy in your everyday life.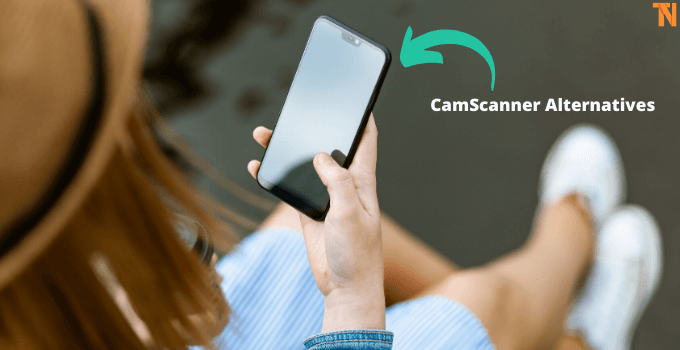 And one such thing is scanning documents using your Android phone. A lot of Android users scan various kinds of documents every day. This includes students and working professionals who want to scan their notes and work documents.
While you can take a photo of your documents using your camera app, the scanned image might lack details. And this is where apps like CamScanner come into play. These apps are great for scanning documents on the go. Such apps offer various features and options that can be useful for scanning documents.
Not only that, but you also get much better scans regarding their quality. But not everyone out there might like the CamScanner app for using on their Android smartphones. Therefore, today we are here with the 7 Best CamScanner Alternatives available on Android.
You will also find all of these apps' significant features and options. As a result, you can choose the best scanning app for your smartphone quite easily. Not only that, but I have also provided the download links of all the apps mentioned in this article.
So, if you also use your smartphone to scan documents, then go through this article until the end. Recently, I have shared truecaller alternatives.
7 Best CamScanner Alternatives for Android
Since almost everyone uses their smartphone to save different documents, multiple document scanner apps are available on the Google Play Store.
These apps offer different features and options, so selecting the best document scanner for your needs and requirements can be tricky. I have provided various apps, features, and options to overcome this issue.
You can go through each one by trying them out and get the perfect document scanner for your Android smartphone. So, if you also scan and save your documents on your Android smartphone, make sure to go through the following 7 Best CamScanner Alternatives one by one.
Adobe is a massive name for productive apps of various kinds. Not only that, but they make helpful apps for all of the major platforms and devices out there. And Adobe even offers a document scanner to Android smartphone users, similar to CamScanner.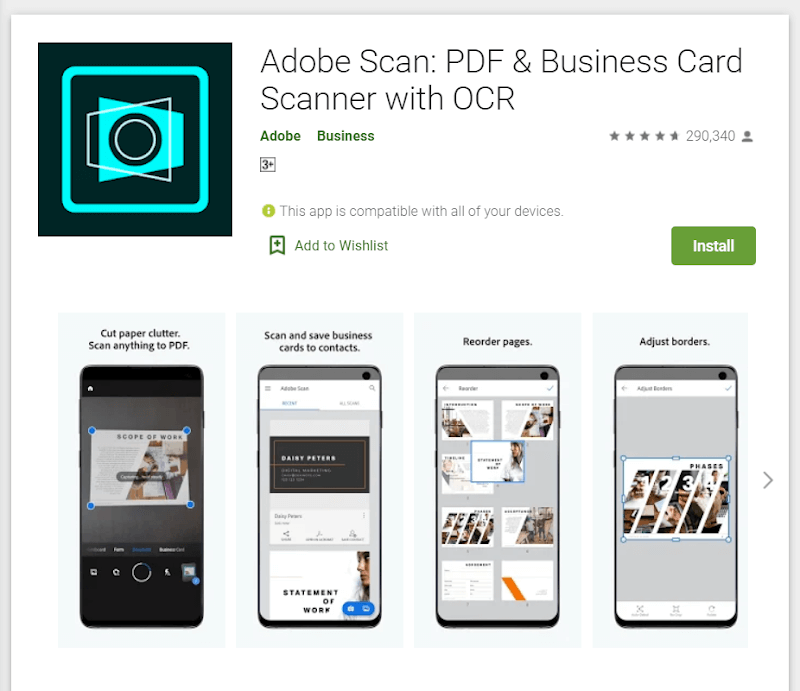 But compared to CamScanner, it offers various useful advanced features that can be pretty handy. Using this app is relatively easy due to its straightforward user interface. Not only that, but the user interface of this app also looks quite good.
One of the best things about Adobe Scan is that all your documents are synced with your Adobe Cloud account. As a result, you can access all of your essential documents from anywhere at any time without any issues.
This app allows you to edit your scanned documents with options like crop, resize, text recognition, etc. I have also shared the best root apps.
Microsoft also offers a document scanner app to all of the Android users out there. But this scanning app can be considered an all-in-one scanning app. Besides scanning your documents, you can also use it to scan other things.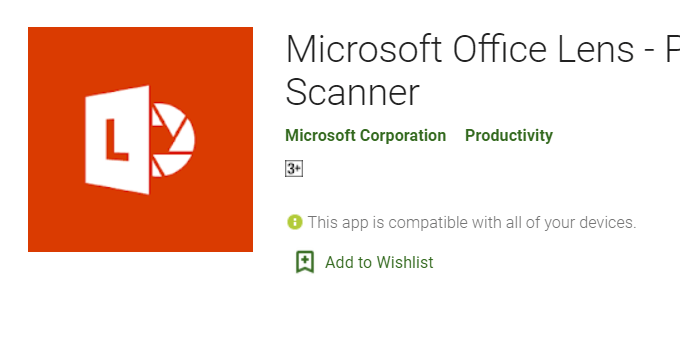 You can scan whiteboards, images, photos, business cards, etc. Not only that, but this app even gives you various saving and sharing options. Such options can save you a lot of time if you want to share your documents with your friends and family.
All of the documents that you scan using this app get saved as both pdf as well as normal images. As a result, quickly viewing your documents scanned using this app is quite easy. And the quality of the scanned documents is also quite useful since Microsoft developed this app.
As the name suggests, Photoscan is an excellent app if you want to scan physical photos into digital copies. Since most images have a glossy finish, taking their picture from your camera app results in unimpressive results. And this is where the Photoscan app comes into play.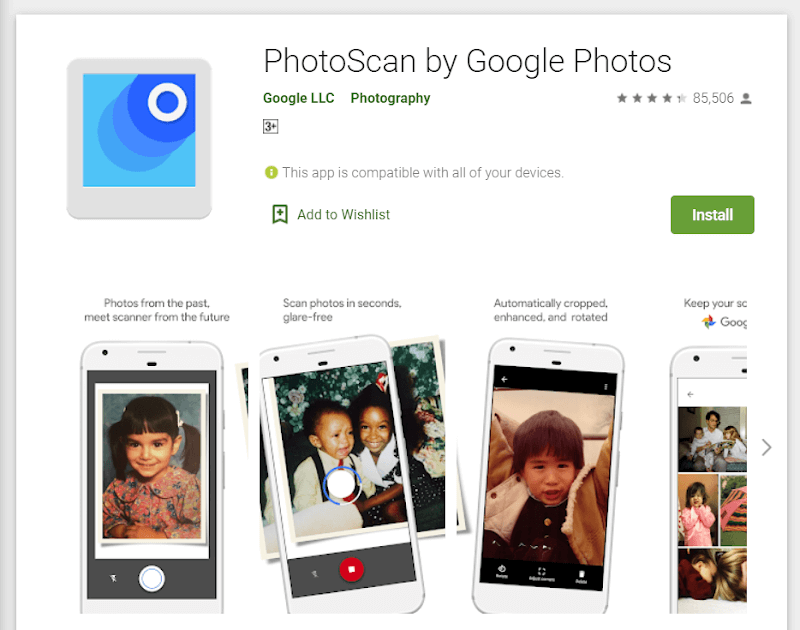 This app is specially made for scanning photos using your Android smartphone. The quality of the scanned images is also quite useful since this is an app developed by Google.
Such an app can be handy if you want to save all of your photo albums on your phone or share your physical photos on social media platforms. This app works great with black and white images and colored prints.
Not only that, but you can also use this app to remove the white bezels from the photos that you have scanned. And Photoscan can do this without capturing any glare from the glossy surface of your photo.
Must Read: Apps to Download Subtitles
Tiny Scanner is a straightforward app for Android smartphones that allows you to scan documents using your phone quickly and easily. Instead of adding extra useless features, the developers of Tiny Scanner have made this app quite simple.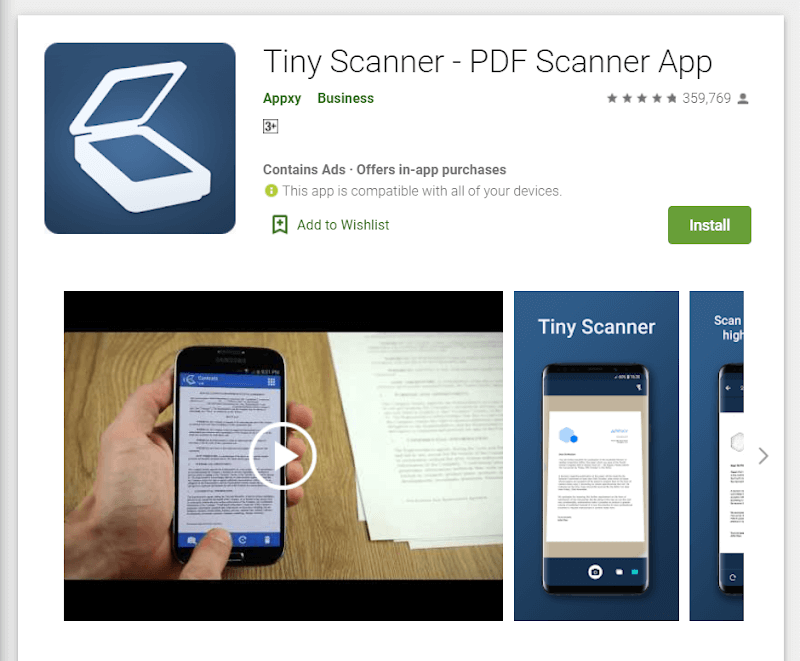 The app is quite small in size and does not consume many system resources either. As a result, this app is perfect for those who quickly want to scan a document using their Android smartphone.
All of the scans you take using this app on your Android smartphone are saved as PDF files. Not only that, but you can even set the page size while creating scans.
Due to this, you can format the scan as a letter, A4, A3, Legal, Business Card, and other popular formats. One of the best things about this app is that it automatically detects page boundaries. As a result, you do not have to adjust the scanned image afterward in the Tiny Scanner app.
Also, Check: ES File Explorer Alternatives
Fast Scanner is another excellent alternative to CamScanner when scanning documents using your Android smartphone. This app offers a user interface similar to that of CamScanner. As a result, you will feel right at home while using the Fast Scanner app on your smartphone.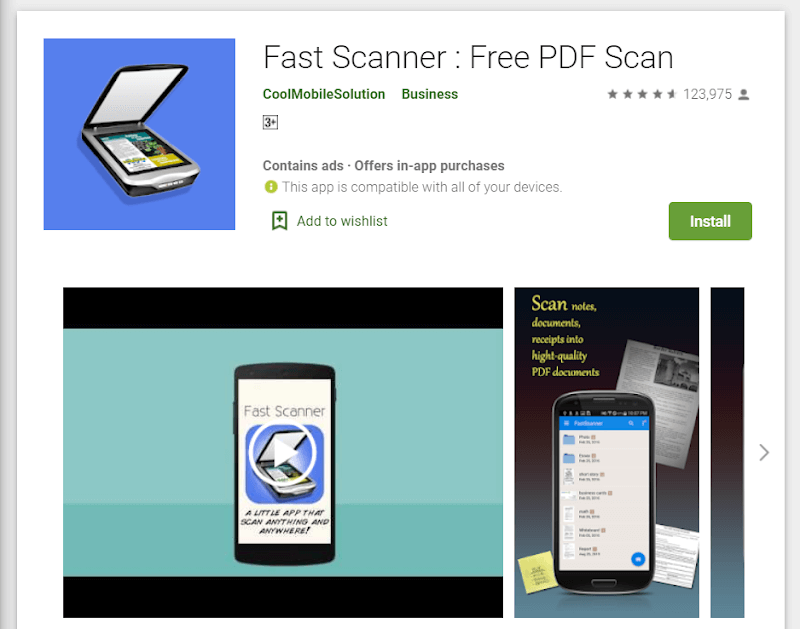 This app allows the user to save the scanned images in several formats. You can choose PDF, JPEG, PNG, DOCX, and more formats. As a result, you can easily share your scanned documents with others over the internet.
Another great thing about this app is that it keeps all of your scanned documents well scanned. They are automatically sorted by date and time, so you can easily find scanned documents in the future.
Not only that, but this app is also quite easy to use due to its excellent user interface. Fast Scanner also looks modern and sleek due to its design and layout due to this user interface.
Notebloc is one of the best CamScanner alternatives available for Android devices. This PDF scanner app is an editor's choice app on the Google Play Store. It has various useful features and options that make it an editor's choice.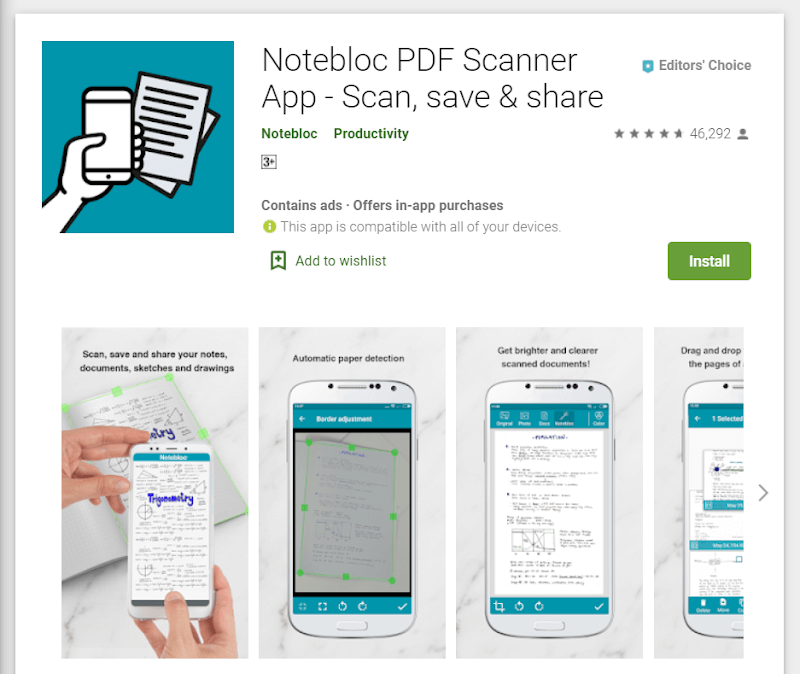 One of the best features of this app is that it has OCR support. As a result, all the text in your scanned documents gets converted to digital text. You can then copy and share this text with others quite easily. Such a feature can be handy for students who have to scan many notes.
Apart from that, Notebloc also detects the edges of the document that you can scan. Due to this, the scanned documents get aligned automatically. This feature can save a lot of time for the user while scanning multiple documents simultaneously.
You get all these features for free while using the Notebloc PDF Scanner on your Android smartphone. Also, check out Evernote alternatives for Android.
Scanbot is another one among the best CamScanner alternatives, which is also an editor's choice on the Google Play Store. This app includes automation features in a document scanning app, making it one of a kind.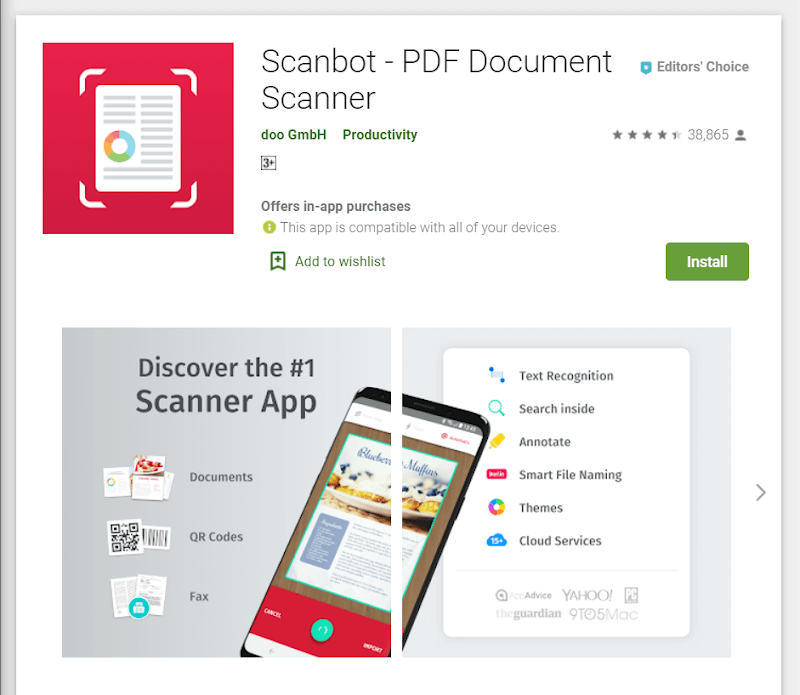 Apart from scanning documents, you can also scan QR codes and barcodes using this app. As a result, this is the only scanning app you will need on your smartphone. This app will also find an OCR feature that allows you to convert scanned documents into text.
Due to this, you can easily export text from your scanned documents for using it in other word processing software. And all of the scanned documents can also be saved on your cloud storage without any issues.
Must Read: Keylogger Apps
Conclusion
I hope you have installed and tried the various document scanner apps available for Android smartphones. If you haven't tried those yet, you can do so by using this article. I have provided the seven best CamScanner Alternatives in this article.
You will also find all the major features and options of all the apps mentioned in this article. These apps can easily help you scan documents on the go using your Android smartphone. If you found this post useful, don't forget to share. If you have any questions, let me know in the comments below.