Are you looking for the best WiFi analyzer for windows 11/10/8/7? Well, if yes then you are in right place. WiFi signals, similar to most other commonly used communication mediums, tend to behave in unpredictable ways.
One second you have a full signal indicator on your smartphone or laptop and the next you have just one bar or connectivity issues – all that changed in between was a few steps in the wrong direction.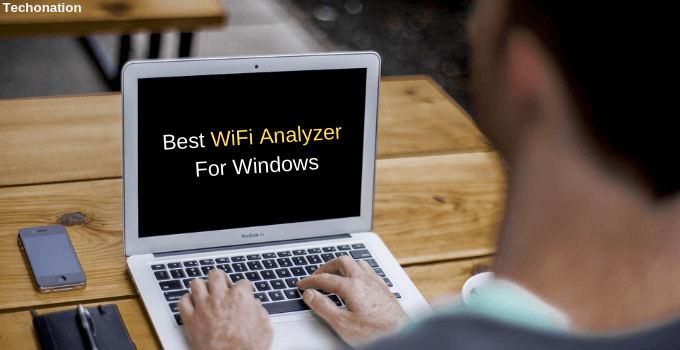 Most of us mentally map the areas in our rooms where the signal strength is maximum and avoid the ones where it is weak. What if we told you that you could avoid this hassle and easily pinpoint locations of better network reception using the best WiFi analyzer application for Windows? I have also shared the best flashcard apps for iPhone.
What is WiFi Analyzer?
Monitoring and analyzing WiFi networks is a crucial step towards keeping up with the speed and security of your Windows device. The best WiFi analyzer generates a visual display of the network statistics and turns your computer or mobile device into an analytics program.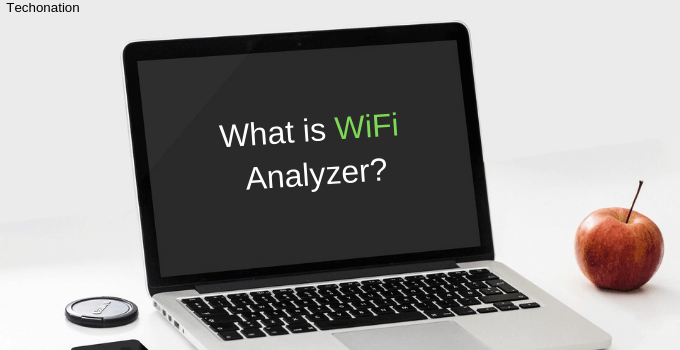 It can help improve user experience, speed up browsing, and eliminate the trouble of trying to estimate what factors are impeding your signal strength and quality.
You may also like: 7 Best Garageband Alternatives For Windows
10 Best WiFi Analyzer for Windows 7/8/10/11
Read on to find out more about WiFi analyzer and the top 10 best wifi analyzer apps available in the market.
1- Paessler PRTG
From leading network tracking software developer Paessler, PRTG is a monitoring tool that locates all of the network devices on your network including ll of the network devices on your network including WiFi routers. The auto-discovery feature tracks your WiFi networks easily and displays the network map in a matter of minutes.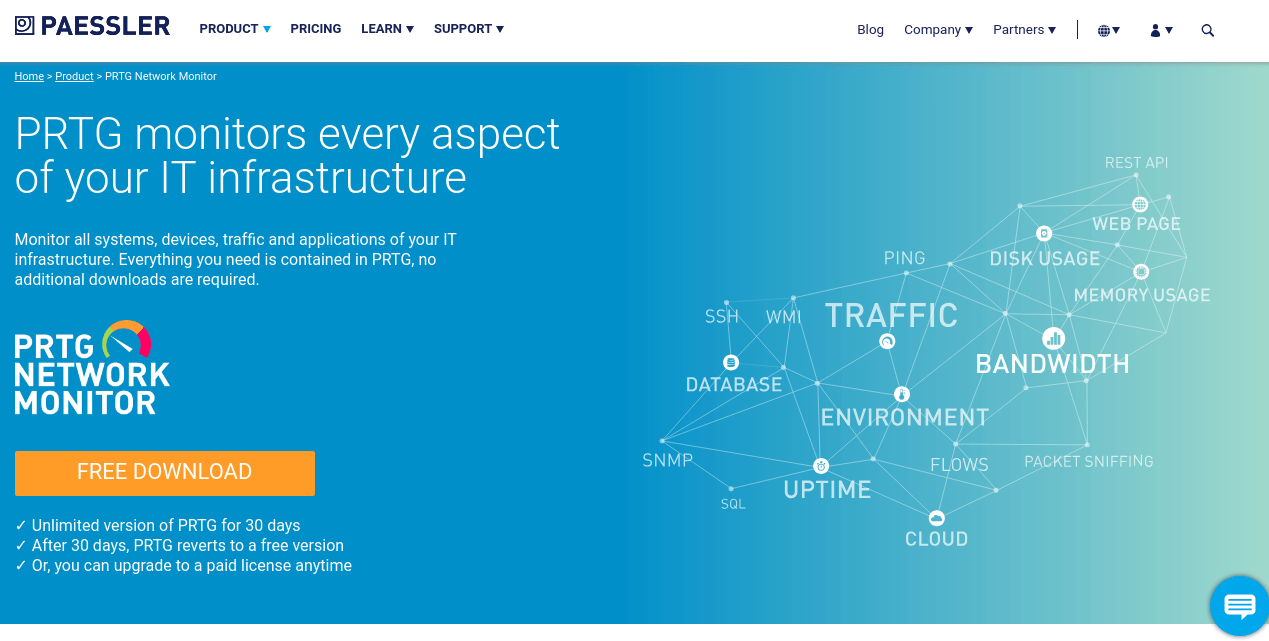 PRTG is rightfully named "The Swiss Army Knife for Sys Admins" due to its ability to analyze APs, load, traffic, signal strength, and availability of wireless networks using its powerful API.
The built-in sensors that monitor bandwidth load are also quick to alert you if any WiFi disruptions occur or if the bandwidth limit is exceeded.
Available for Windows 7/8/10, Paessler allows users to download a free trial with no limits on sensor monitoring for 30 days or an open-source fully functional version capped at 100 sensors. The download link for the PTRG software is given below. Also, you can fix WiFi connected but no internet access problem.
Download from here.
2- NetSpot
Highly recommended for beginners and professional administrators. NetSpot is one of the best WiFi analyzer for Windows and Mac. It is equipped with a modern, user-friendly, and sleek UI.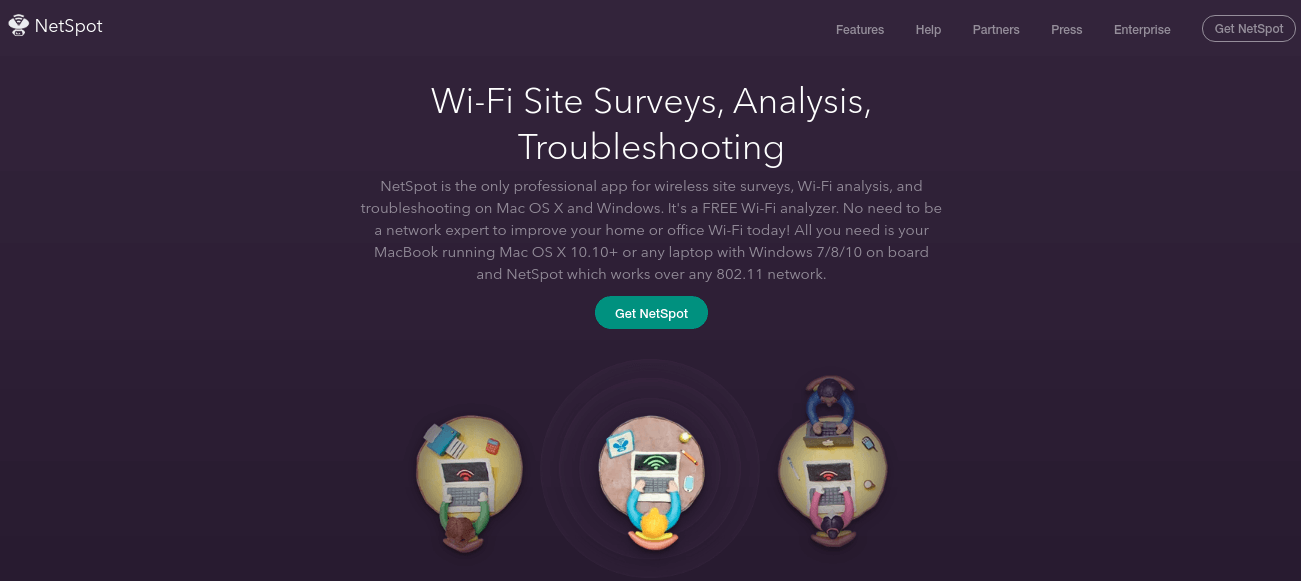 NetSpot enables users to develop a heat map of their wireless networks and locate areas by a weak and strong signal. The easy-to-use tool offers two WiFi scanning modes: Discover Mode and Survey Mode.
NetSpot is available for macOS 10.10+ and Windows 7/8/10/11 with a standard 802.11a/b/g/n/ac wireless network adapter.
Download from here.
3- SolarWinds WiFi Monitor and Analyzer
SolarWinds WiFi Monitor and best WiFi Analyzer is an easy to use software released for Windows systems only by SolarWinds, one of the pioneers of Information Technology management software.
This monitoring tool allows users to identify and locate local wireless network points, access-related information, and view corresponding signal strengths.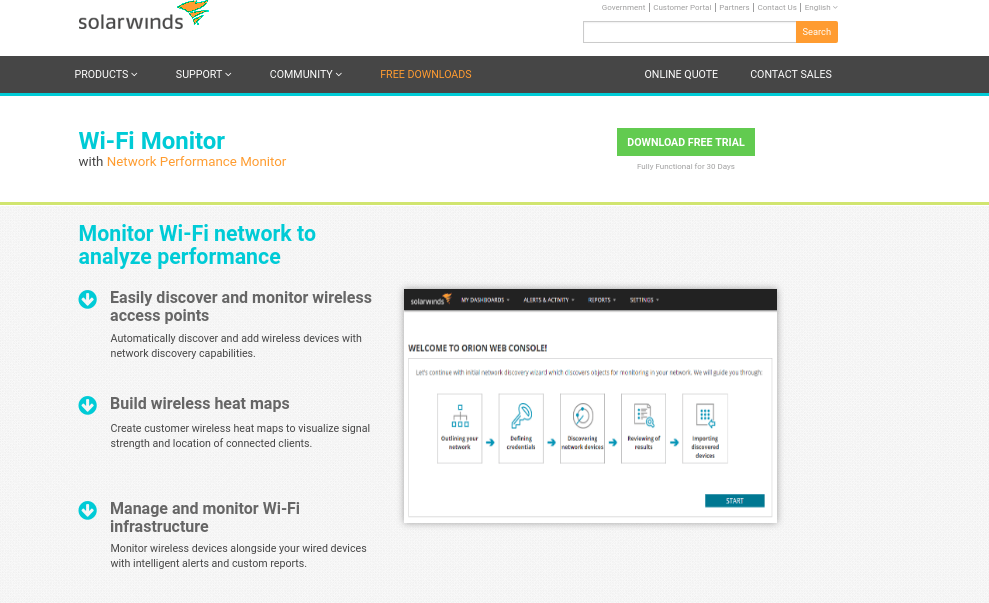 Upon installation, the app Network Performance Monitor (NPM) will dynamically discover APs and prompt you to monitor the same. Building wireless heat maps for available wireless networks is a breeze with the NPM, and it does so by automatically surveying the signal strength of each AP and connected client.
Advanced features supported by the NPM include extensive report generation based on information collected from IP addresses, SSID channels, and client data. Get an NPM trial by downloading the SolarWinds WiFi Monitor and Analyzer. Check also,  DNS benchmarking tools.
Download from here.
4- InSSIDer
From MetaGeek, InSSIDer is an established WiFi monitoring tool for Windows. This tool scans wireless networks and recommends the right channel for you by breaking down all the pertinent data about nearby networks and listing information on your access points.
Details ranging from the type of encryption to the strength of the signals are available to the user. With a user-friendly interface, InSSIDer lets users quickly perform a routine spot check and eliminate interference from intervening networks.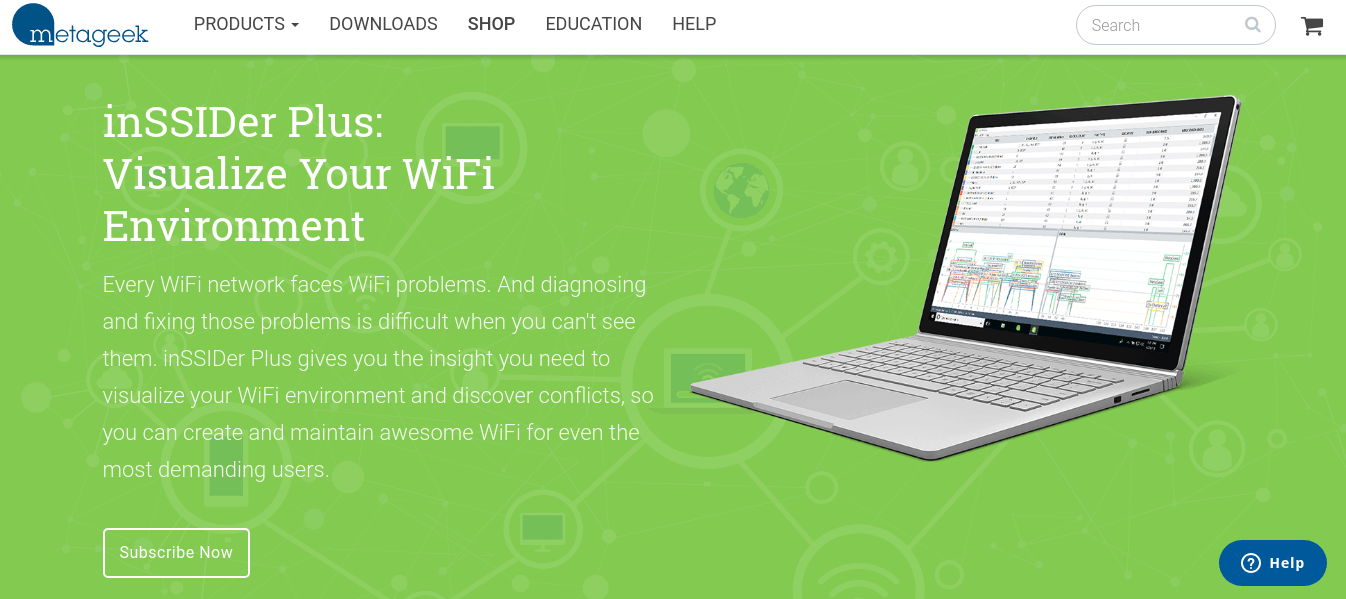 Further information regarding SSID, signal strength, optimal channels or network availability can be viewed by simply clicking on the required category. Root your mobile with the rooting apps.
The InSSIDer tool is available in three different versions: inSSIDer Office (does not support 2.4 GHz and 5 GHz spectrum analysis), InSSIDer Office + WiSpy Mini (does not support 5 GHz spectrum analysis), and InSSIDer Office + WiSpy DBx (a most expensive edition which has all features unlocked).
Download from here.
5- Acrylic WiFi
Developed by Tarlogic Security, Acrylic WiFi Home is a free wireless network Analyzer available for Windows systems only. This freeware allows the user to analyze WiFi traffic, scan for local wireless access points, and visualize APs and clients.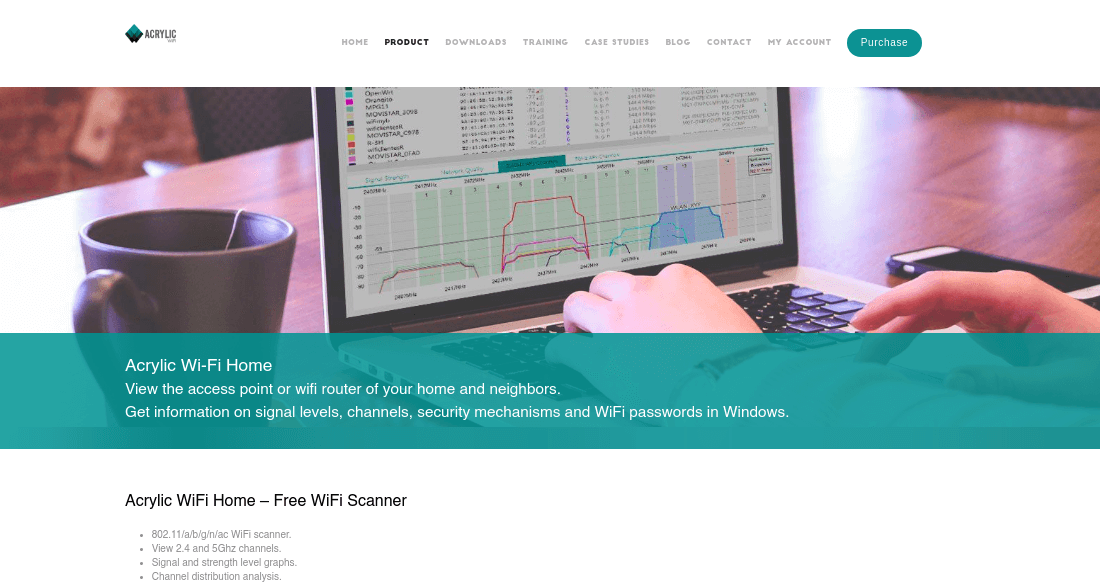 The paid version, Acrylic WiFi Professional, includes upgraded report creation, a built-in connectivity module for testing the password strength, and many more interesting features.
Another unique feature that comes with the Professional version is a monitor mode or promiscuous mode that captures WiFi network availabilities using its own driver module.
Download from here.
6- Vistumbler
What separates Vistumbler from the rest of the pack is its support for GPS and location-based approach to improving network performance. If GPS is enabled on your device.
Vistumbler can generate a wireless heat map over a Google Earth image and pinpoint the exact location of a WiFi network along with encryption, strength, and other details.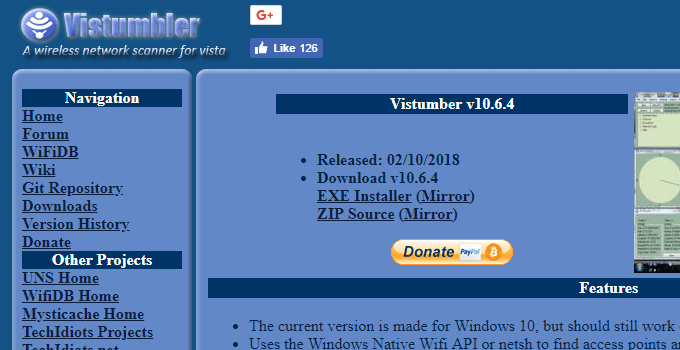 The only limitation imposed by Vistumbler is that it requires a steep learning curve as it is not that easy to use. Primarily designed to locate WiFi networks in moving vehicles (wardriving), Vistumbler wasn't developed keeping home and office use in mind.
However, with a bit of getting accustomed to the interface, users can optimize their network,  with a fair range of accuracy.
Download from here.
Must Read:
7- Wireshark
Wireshark is an open-source packet analyzer and while technically a robust network analysis tool, Wireshark can also be used as the best WiFi analyzer for Windows, Mac, OS X, Solaris, and Linux. This free program is tailored towards both office and home users.
However, for home WiFi, it requires a bit of getting used to as compared to someone who's a seasoned IT expert. Fortunately, there are training courses targeted at beginners who are new to Wireshark.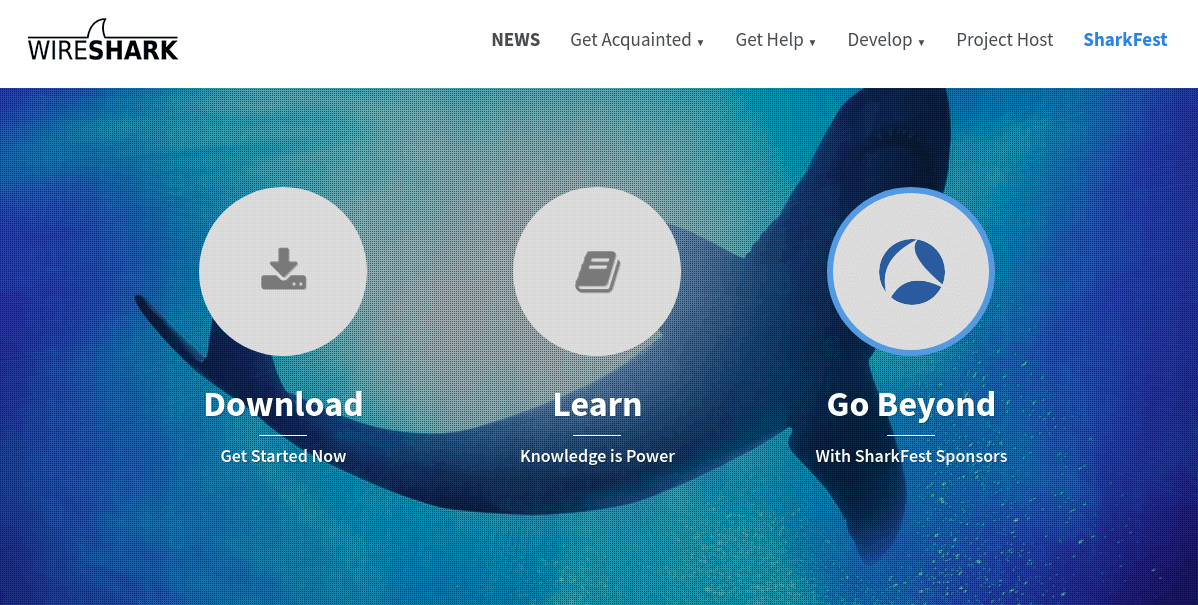 The system works by capturing live data so that users can see real-time network maps and look for connectivity issues. Apart from troubleshooting, users can also run VOIP analysis to improve the visibility of neighboring networks.
These comprehensive features are backed up by an open-source active community with support for plugins and add-ons.
Download from here.
8- WiFi Analyzer
Available on the Microsoft Store as a Windows 10 app, WiFi Analyzer is a simple Windows WiFi monitoring tool that lets home users transform their network into a visual display showing signal strength (in the ad-free version) and features like live-tile support, filters, screen timeout and screen rotation lock (in the Pro version).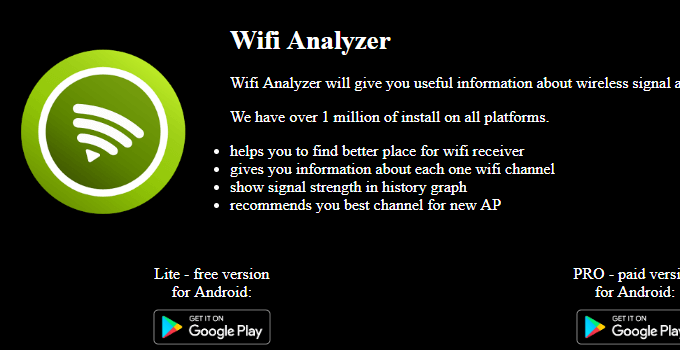 Well, its easiness to use and simplicity of the UI make WiFi Analyzer an ideal choice for those experimenting with network analyzer tools. Users can opt to stick with the basic free version as it offers most of what is necessary for locating WiFi networks and access points in their areas.
To know more about the monitoring tool and download suitable versions for Windows 7/8/10/11, look up WiFi Analyzer in the Microsoft Store.
9- WiFi Commander
This best WiFi analyzer is exclusively available for Windows 10 systems and lets users scan for the best WiFi networks in their surroundings using a unique touch-friendly interface which maps a 3D graph of channel distributions.
Equipped with a unique real-time signal level monitor, users can pinpoint the suitable network and connect to the same based on current signal levels and related properties.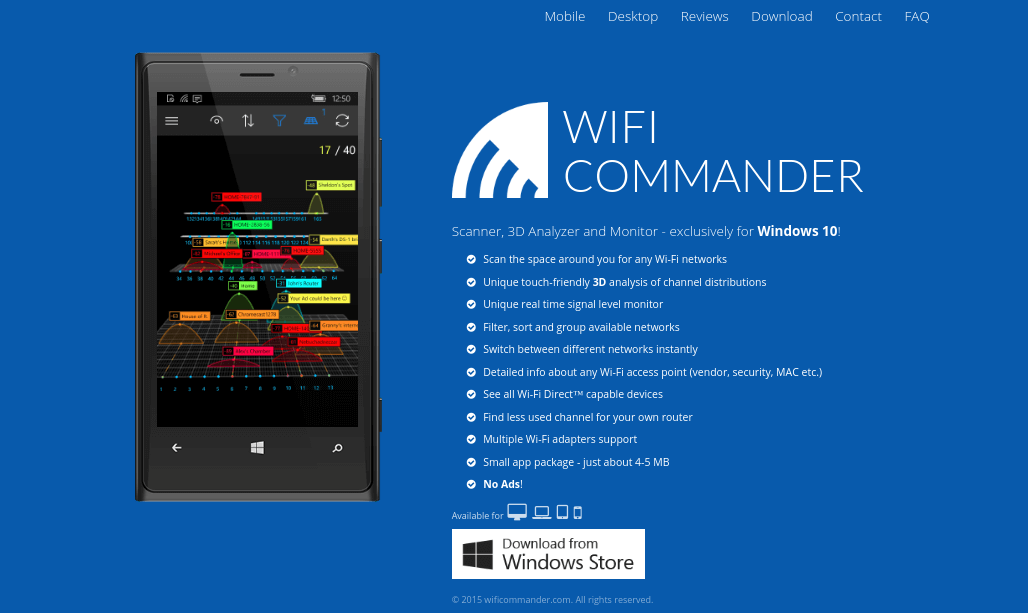 The app itself is lightweight, packaged to occupy less memory space and comes with no ads. You can also ascertain and acquire detailed information regarding any WiFI access node and signal strengths associated with it.
To get WiFi Commander for Windows, look up WiFi Commander: 3D Analyze & Monitor in the Microsoft Store.
You may also like: 10 Best Emoji Apps For Android
10- WiFi Tool
WiFi Tool is a network monitoring tool perfect for turning your Windows PC or laptop into a powerful Windows WiFi Analyzer. The modern receptive UI design equips a lot of features to give more command over the network.
Apart from being easy to use, WiFi Tool's 2D and 3D visualizations assist in making network data more informative and descriptive for the end-user.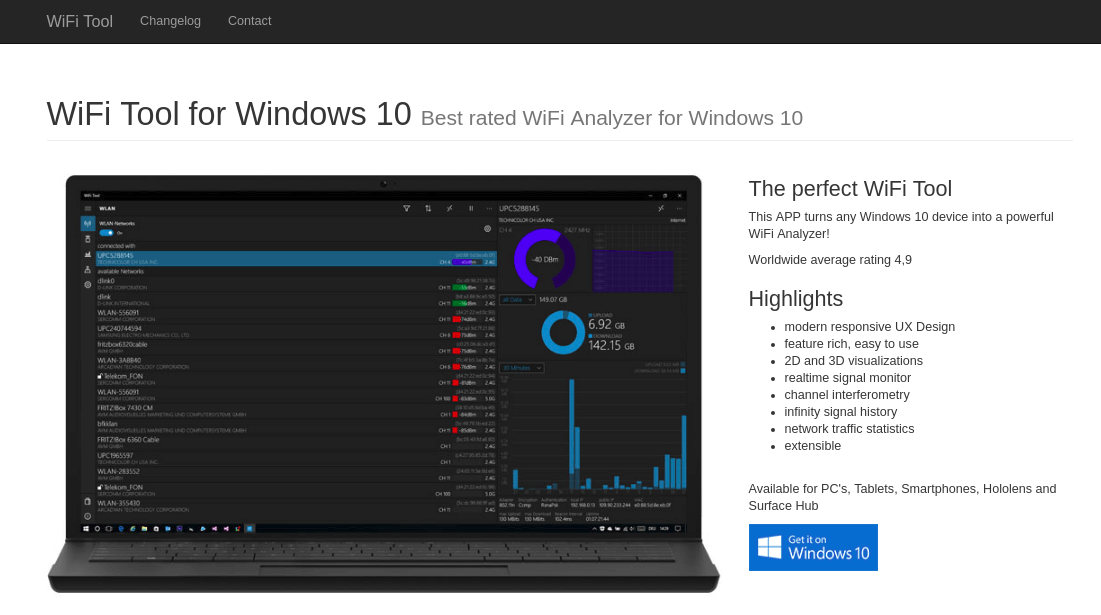 The real-time signal monitor keeps you updated on factors such as the signal strength and network speed of the current WiFi network. Users can access and manipulate the network traffic statistics to isolate better networks in their periphery and connect to the best access point available.
Download from here.
Must Read: How to Use iMessage On Windows PC?
Wrapping Up
Choosing the best WiFi Analyzer bottles down to the level of control and analytical accuracy you want in your home and business. WiFi analyzer is really a handy tool for managing your wireless network.
In case you want to keep your network speed and connection stable then the network monitoring application should be a high priority. Ultimately you're looking for a tool that's user-friendly, easy to use, and offers the functionality needed to achieve your requirements.
A home user might be able to manage on a free program like Wireshark or Acrylic WiFi Home, but an entire business will need a more powerful solution like NetSpot or PRTG. Keep visiting TechoNation for more updates.