Are you looking for best Flashcard apps for iPhone? Well, here are the top 7 Flashcard apps for iOS and Android phones. Learning something by heart isn't an easy task. Writing down notes and reading them allows us to memorize content or learn new words.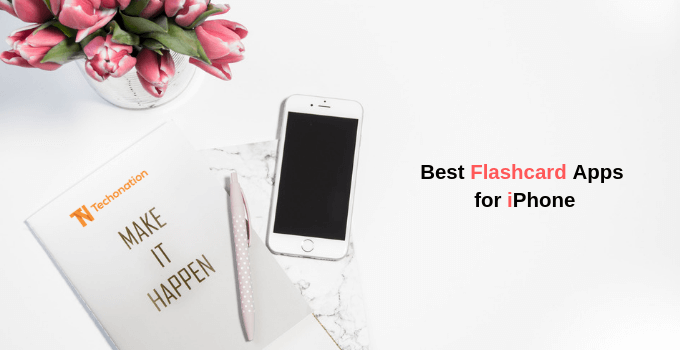 Well, flashcards are based on this principle. They are small cards containing a precise piece of content, information, words or photos which aid in learning a new concept or a foreign language.
Having the ability to carry flashcards with you can go a long way in ensuring your training is going as intended. Whether you are in school or college preparing for your Entrance exams, SATS or other competitive exams or just interested in learning a new language.
This is where digital flashcards come into the play in the form of flashcard apps.
Must Read: Best Hookup Apps
7 Best Flashcard Apps for iPhone
As the market is saturated with lots of similar apps, I have compiled a list of the 7 best flashcard apps for iPhone and even for Android devices that you can use to learn and write the things down.
1. FlashCards+ by Chegg
FlashCards+ is a simple and user-friendly application that is considered as one of the best flashcard apps for iPhones. Using sets of double-sided cards, FlashCard+ lets users add unlimited decks after account creation.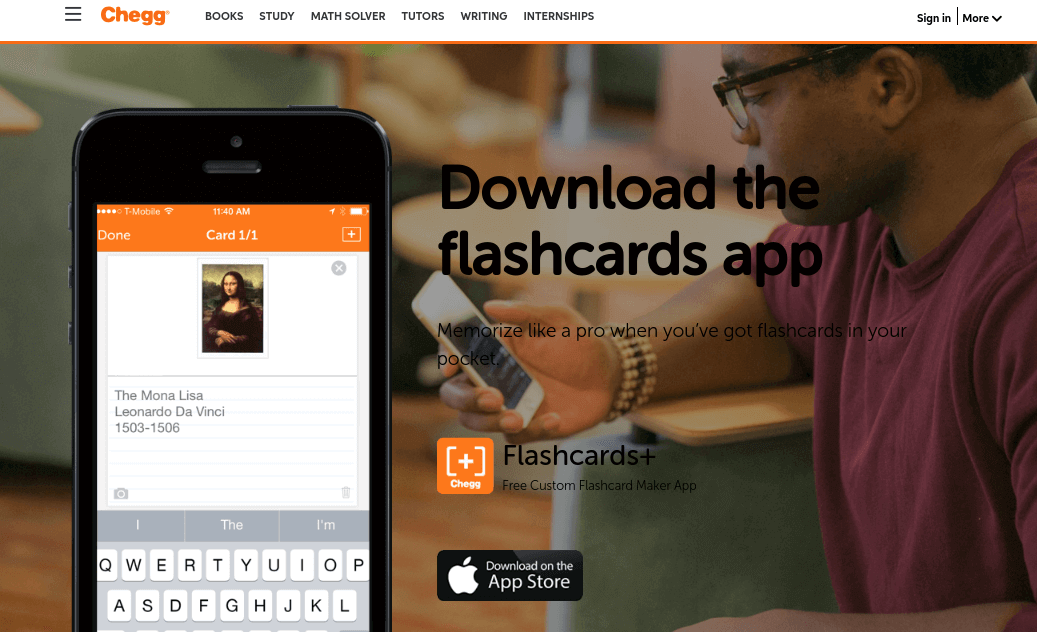 Decks can be sorted into different categories depending on the subject, and the app supports card creation with up to 22 languages. FlashCards+ comes with features like font customization, text adjustment, card shuffling and a voice-assisted text reader.
Apart from creating online flashcards, the app lets users add visual cues in the form of images that boost memorization skills. Several iOS users can actively synchronize and engage on multiple devices. The general UI is pretty basic and adds a minimalistic touch to your learning process.
FlashCards+ by Chegg is free to use and not clouded by ads making it ideal for students. However, certain features like font optimizations come for 3.99$. Download it for free from the app store.
2. Quizlet
Quizlet is one of the largest flashcard apps for iOS in the market. It acts as a service that lets users create educational cards and add image and audio files to them.
One can look up, study, and learn from flashcards spanning several subjects by browsing through the vast content offered by the app.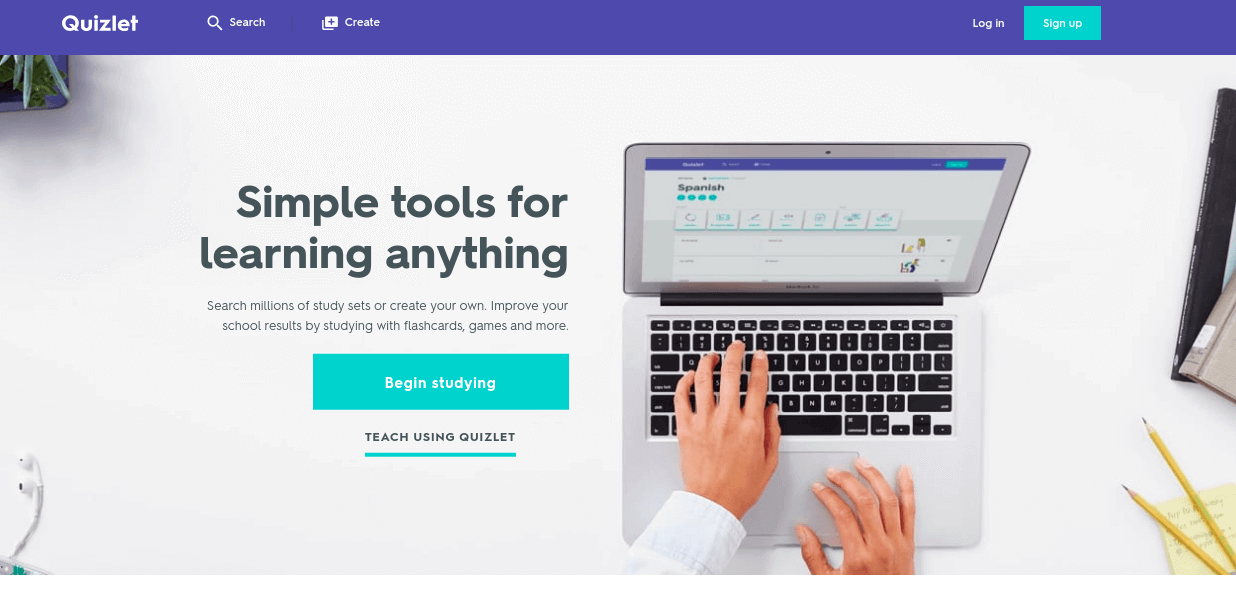 What sets Quizlet apart from other flashcard applications is a feature called Quizlet Learn. This feature uses data sampled from millions of anonymous quizzing sessions and behaves as a progress tracker.
Other exciting features include the ability to embed cards and share them through social networking platforms, printing cards and adjusting their visibility. Users can also play quizzes along the lines of memory tests or matching games.
Quizlet offers a seven-day free trial period, at the end of which, the app needs to be upgraded to the premium version for 20$ a year. You can download it from here.
3. StudyStack
Besides working like other best flashcard apps for iPhone, StudyStack also offers an activity-based routine. It allows users to learn by solving crossword puzzles and playing logic games. It lets users create and stack cards under different sections.
The app has options for adding different colors to each card to help distinguish them. A striking feature of StudyStack is that it allows card creation with more than the usual two sides which can serve the purpose of adding follow-up questions.
Another feature that separates StudyStack from the rest of the pack is the number of ways you can learn from the platform. There are activities and games like Hangman, Hungry Bug, Crossword and many more that users can utilize to learn about a topic in a fun and interactive way.
StudyStack is free to use and contains no ads. If you are looking for an engaging way to study new subjects or improve your vocabulary, download StudyStack from this link.
4. Anki
It is one of the oldest flashcard apps for iPhone and Android devices in the market. Anki boasts of rich functionality for learning foreign languages and creating educational flashcards.
Available for almost all popular platforms, Anki allows full synchronization, enabling users to access learning material from any device that has Anki installed.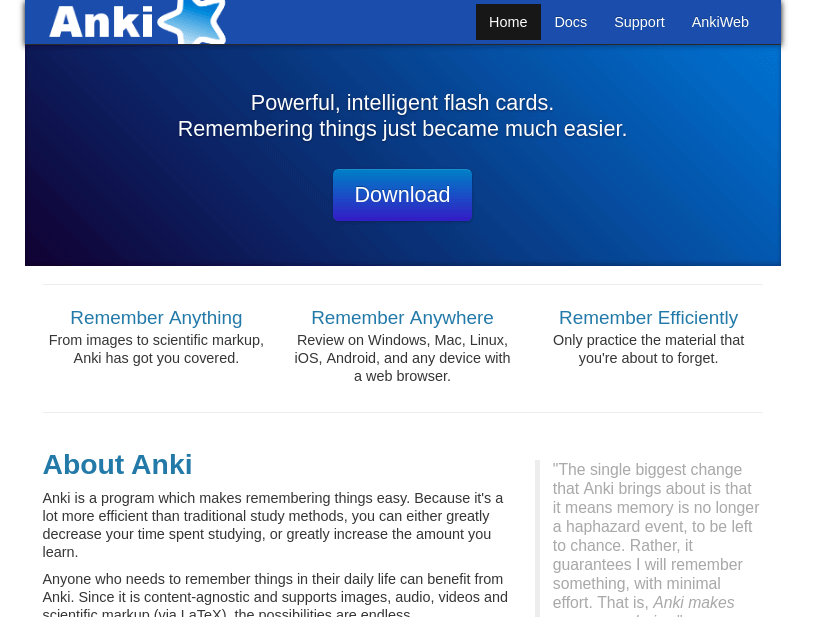 The app keeps track of your progress by employing a learning algorithm that analyses repetitive evaluations at regular intervals. Deck creation is reasonably straightforward with Anki and users are also given a choice to add reversing cards with the app.
Card adjustments are quite flexible, and users can add as many fields as they wish. Anki also allows the inclusion of pictures and audio clips with the cards.
While Anki is free for Web OS and Linux, iOS users need to shell out 25$ for a one-time purchase which includes the possibility of installing additional plugins later on. You can download the app from this link.
5. StudyBlue
StudyBlue lets users create their flashcards or import ones created by other people. This implies browsing, sharing and studying cards with groups of people sharing a common interest. Be it learning a foreign language or taking a science quiz, Studyblue can help with that.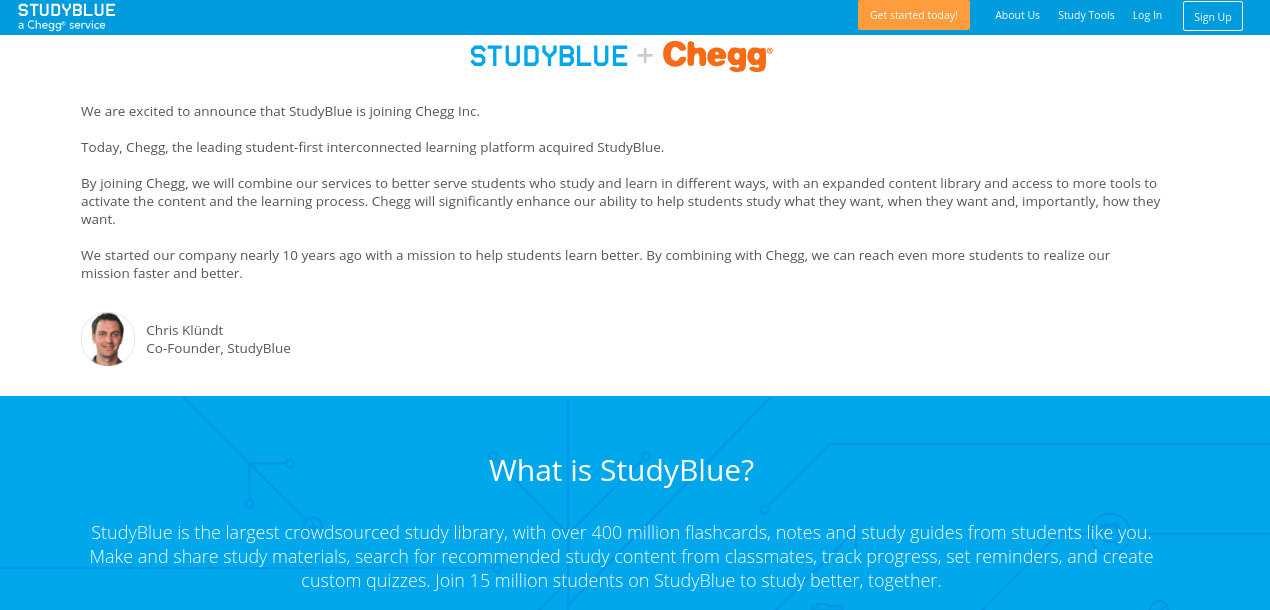 StudyBlue also lets users add audio files and voice recordings to the cards. The underlying algorithm scans questions based on the user's profile and generates relevant quizzes and puzzles for them to solve. It makes Studyblue one of the best flashcard apps for iPhone and Android devices.
The type of quiz can be either multiple choices, true/false, or fill in the blanks. Questions can be filtered by difficulty, and the smart algorithm lets the app interact with the user by suggesting relevant information about the current topic for refined learning.
StudyBlue comes in two versions – a freeware with limited options and a paid app with all features unlocked requiring a subscription starting from 7$ per month.
6. Brainscape
Containing no fancy quizzes or games, Brainscape is a flashcard app for iOS & Android that is developed only for learning through cards. It's aimed at increasing the productivity of students.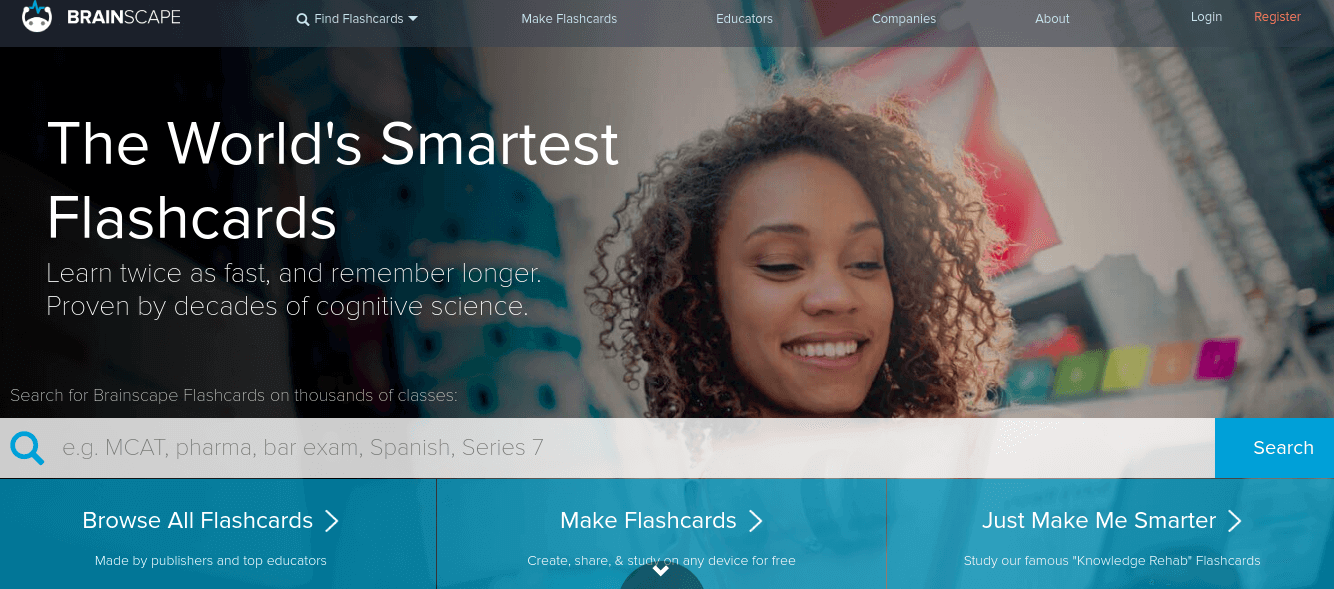 The devs behind Brainscape claim that the app can double the speed of learning with the help of a feature that lets users adjust the timing of different flashcards. It is one of the smartest flashcard app available for iOS.
While sample cards are ordered to increase the difficulty as users level up progressively, Brainscape also allows creating cards for subjects ranging from foreign languages to music theory.
Users have the option of inserting images and audio as input during card creation to boost photographic memory skills.
The free version of Brainscape has limited features while features like bookmarking and reversing cards can be unlocked by buying a subscription starting from 9.99$ per month. The app can be downloaded from this link.
7. Tinycards
Tinycards, made by developers of Duolingo, is a simple flashcard app that teaches users different languages using decks of cards. Tinycards app has a pretty minimalistic layout. Anyone can easily use it.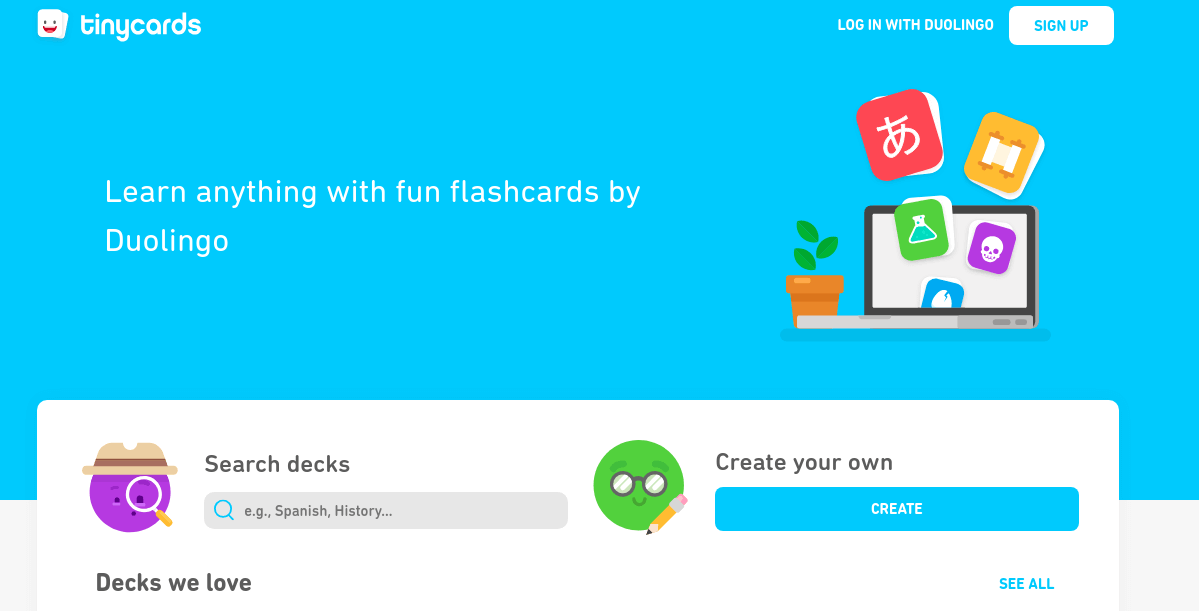 The essence of the app lies in flipping flashcards using the interval method to learn new words effectively. Tinycards offer several ways to memorize words by designing lessons such that each one appears after completion of the previous one.
The questions are generally an image-based query with multiple options having only one right answer. Users can also add images and audio to the cards to make the learning process more engaging.
Tinycards is free to use and does not require users to shell out anything for a premium account to unlock all features.
Must Read:
Conclusion
Well, that was all for our list of the seven best flashcard apps for iPhone. You can equip these apps on your iOS device to finally learn that new language you always dreamt of learning.
Depending on your requirements, you can choose one from the list based on whether you want straightforward card-based learning (like Brainscape) or interactive game-based studying (like StudyStack). Let us know which flashcard suits your needs and preferences in the comments below!