Do you want to read deleted Whatsapp messages on Android? Well, then keep reading. I am going to share 2 easy methods to see revoked Whatsapp messages. Last year, WhatsApp added the Revoke feature in both Android and iOS. This feature can be highly useful and irritating at the same.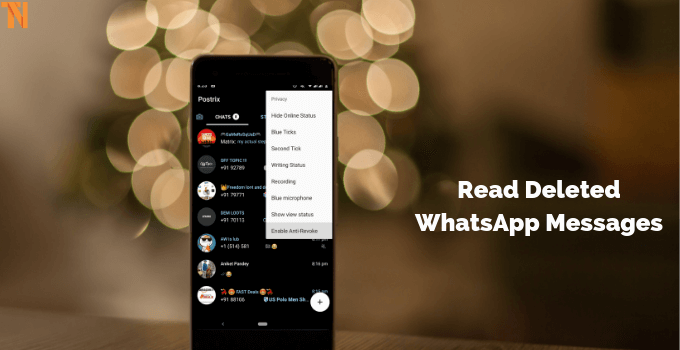 For those who don't know much about this feature, it essentially allows you to delete a message from the receiver's device. The revoke feature was added to remove a message from the receiver side in case you have sent the wrong message. But it can be quite frustrating if someone sent you a message, and before you could read it, it got revoked.
 By default, you can't read any messages once they are revoked in WhatsApp. But there are some other tricks and methods which can be used for doing the same. Different developers and advanced users have come up with various methods that can be used to read a revoked message.
And today I am here with the complete methods to Know which Message was Revoked in Whatsapp. You will find all the possible ways that you can use to gain access to a revoked message in your Android device. With this, you are also going to learn more about the revoke message feature in WhatsApp.
Must Read: How to Download WhatsApp Stories On Android?
How to Read Deleted WhatsApp Messages?
If someone keeps sending you messages on WhatsApp and revokes them afterward, it can be quite annoying. In such a case, you can use one of the below methods for reading revoked messages.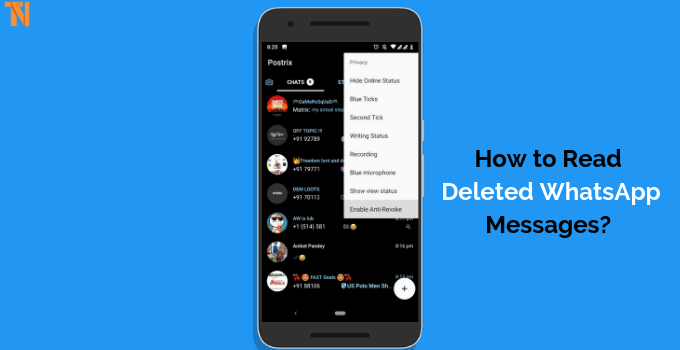 Multiple tricks can be used to read messages on WhatsApp that have been revoked. Unfortunately, not all of these methods or process work at all times. Not only that but some of the ways mentioned online require the user to have root access in their Android device for working successfully.
Therefore, in this article, you will find the two best methods to read deleted WhatsApp messages without root. The first method uses a third-party app for storing WhatsApp messages which got revoked.
While the second one requires a modified version of WhatsApp installed in your Android device. So, if you want to gain access to revoked WhatsApp messages in your Android device, make sure to follow the below steps carefully given in these methods.
I have also shared these best music downloader apps for you.
Method-1: Using a Third Party app to see revoked Messages
There are quite a lot of apps available on the Play store which allows you to know which message was withdrawn from your WhatsApp account. Such apps keep storing all the messages that you are receiving via your notifications.
And whenever someone revokes a message, you can then go to this app and check the stored message. But such kind of apps works only when WhatsApp is minimized.
As if you are using WhatsApp, there will be no notification of messages and the app will not be able to store the message. Since the Play Store has multiple such apps available for free, choosing one that works the best can be a little hectic.
Therefore in this article, we will be using the Anti-delete app that works flawlessly. So, if you want to use this app on your Android device to read revoked messages, follow the given instructions:
Step-1:
First, open the Google play store or follow this link to download and install the Anti-delete app on your Android device.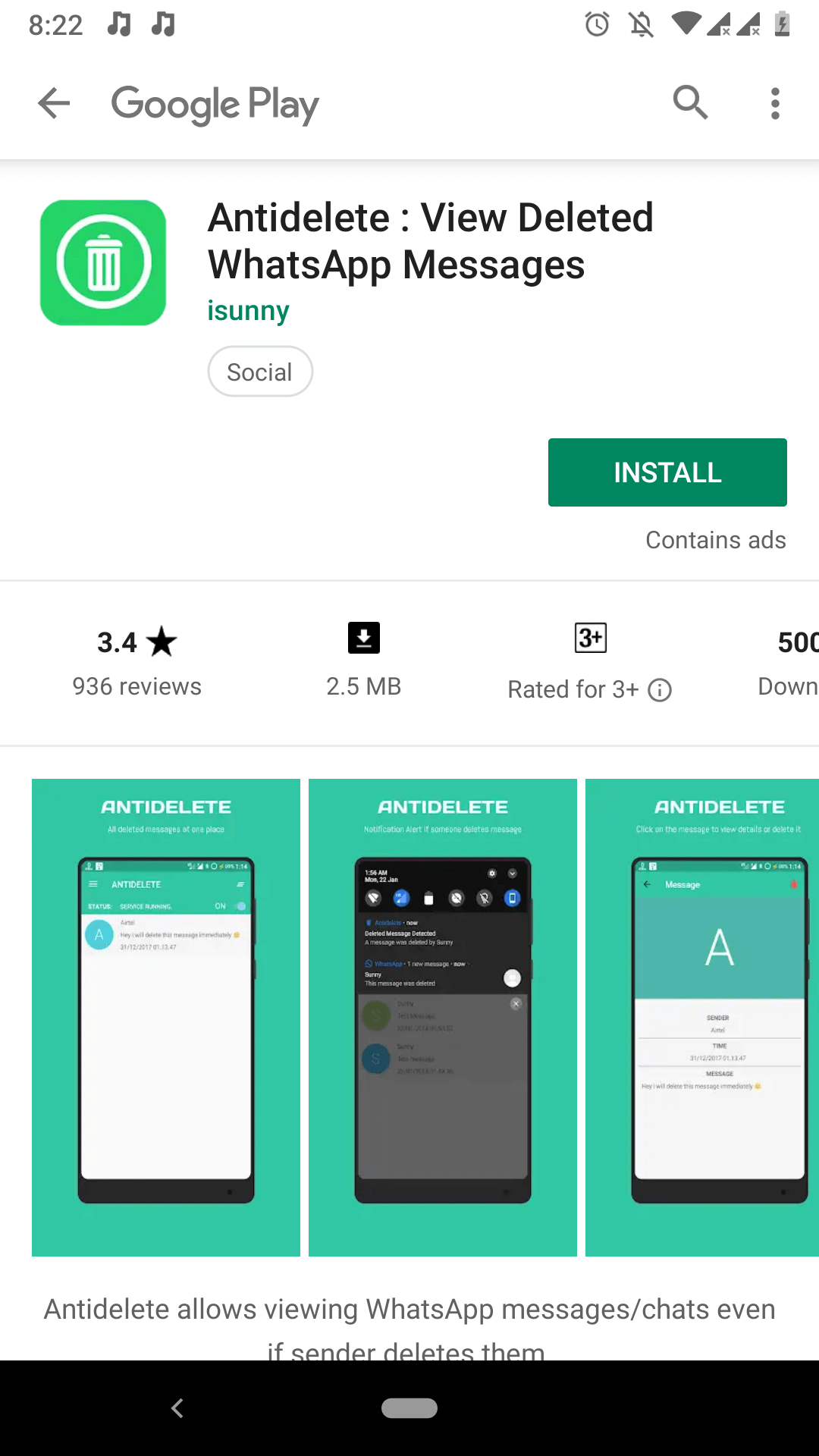 Step-2:
Once the Antidelete app is installed in your Android device allow all the required permissions that this app asks.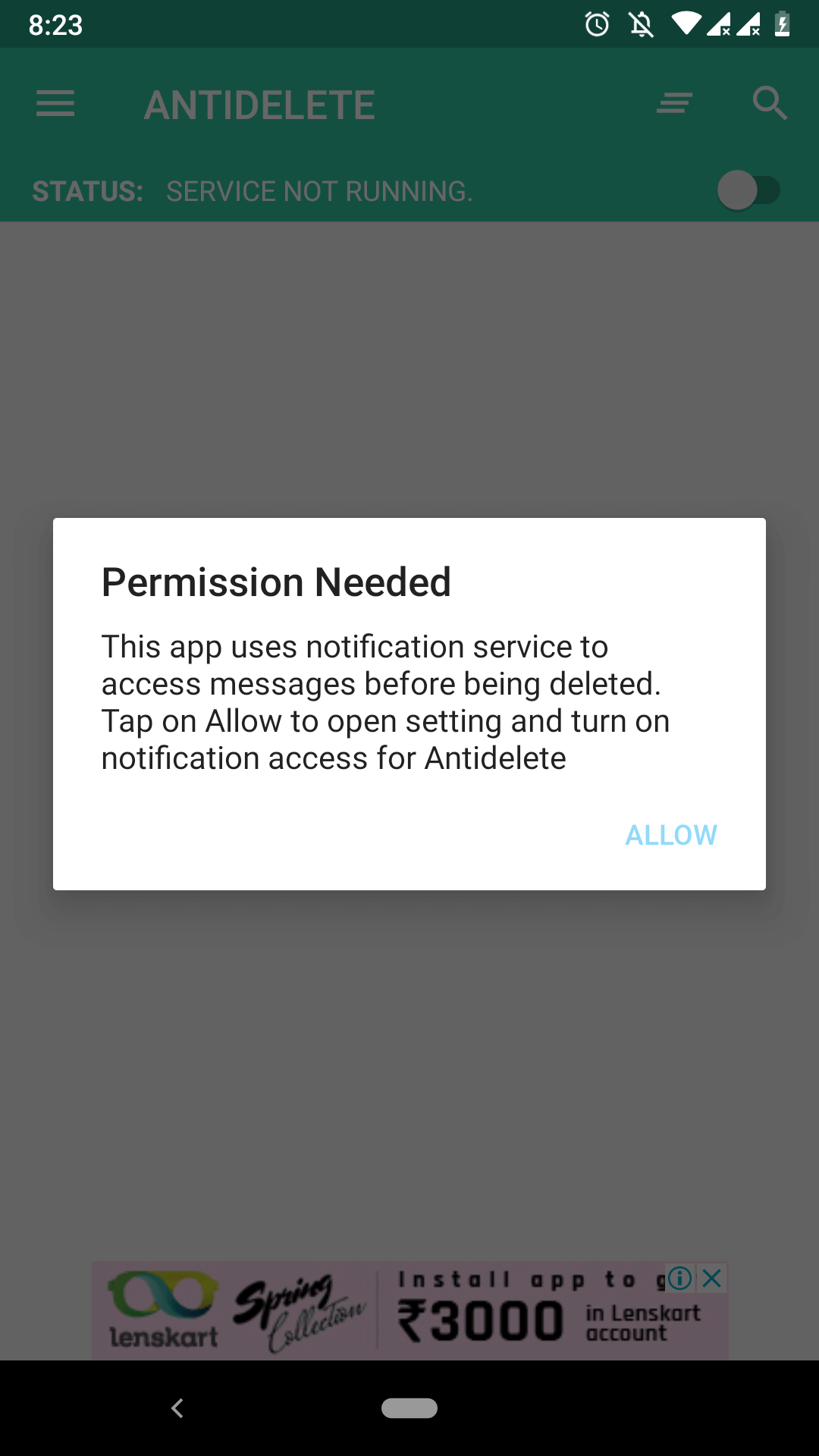 Step-3:
Now, make sure that this app is enabled in your smartphone and it says Service Running inside the app.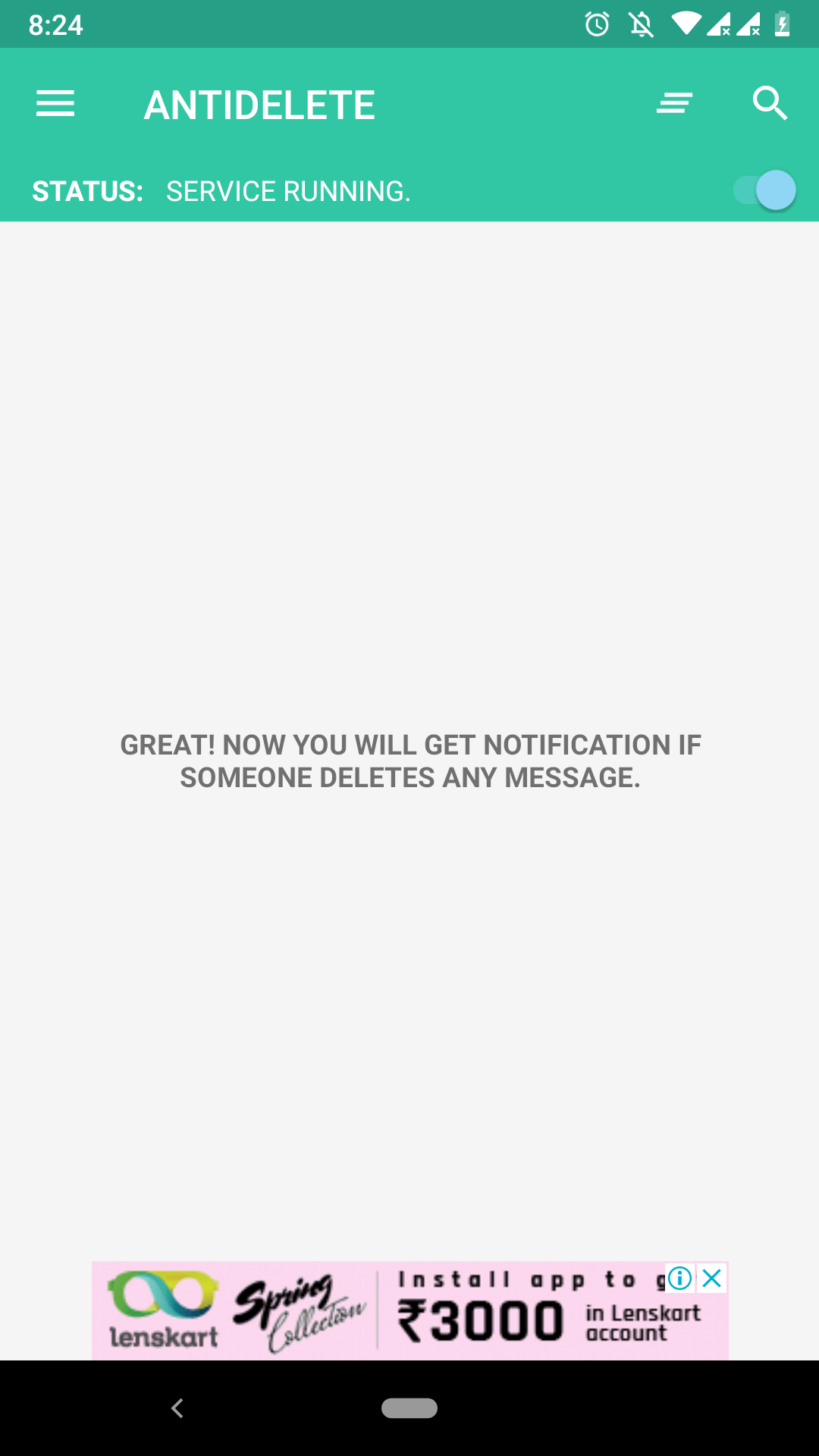 Step-4:
After this, the Anti-delete app will keep storing all WhatsApp messages from the notifications. And whenever someone revokes a message from your WhatsApp, you will get a notification. You can use this app to know which message was revoked in WhatsApp.
Must Read: How to Change IMEI Number On Android?
Method-2: Install WhatsApp Mod on Android and Enable Anti Revoke
If you are a hardcore Android user, then you may know about Whatsapp mods. There several mod versions available out there for Android devices. You can install any of these apps to read deleted Whatsapp messages.
Some of the most popular mods include GB WhatsApp, Yo WhatsApp, WhatsApp Plus, and FM Whatsapp. Such versions of WhatsApp have various useful options and settings which make them much better than the stock version of WhatsApp.
And these WhatsApp mods also come with a feature called Anti-revoke. Well, this unique feature allows us to read messages that have been revoked by the other user. Using such versions of WhatsApp is better than using a third party app.
For this tutorial, we will be using GBWhatsApp. But if you wish to use any other version of WhatsApp, the whole procedure is quite similar. Anyways, if you want to know which message was revoked in WhatsApp on Android, then follow the given process.
Step-1:
Visit this download link and download the latest version of GBWhatsApp apk on your Android device.
Step-2:
After finishing the downloading procedure open the app using any file explorer like ES File Explorer.
Step-3:
After the installation is complete, open GBWhatsApp and allow all the necessary permissions to it.
Step-4:
Now, complete the whole login process of WhatsApp in the mod version of WhatsApp.
Step-5:
Once you are logged into the GBWhatsapp tap on the three-dot menu in the upper right corner of your screen.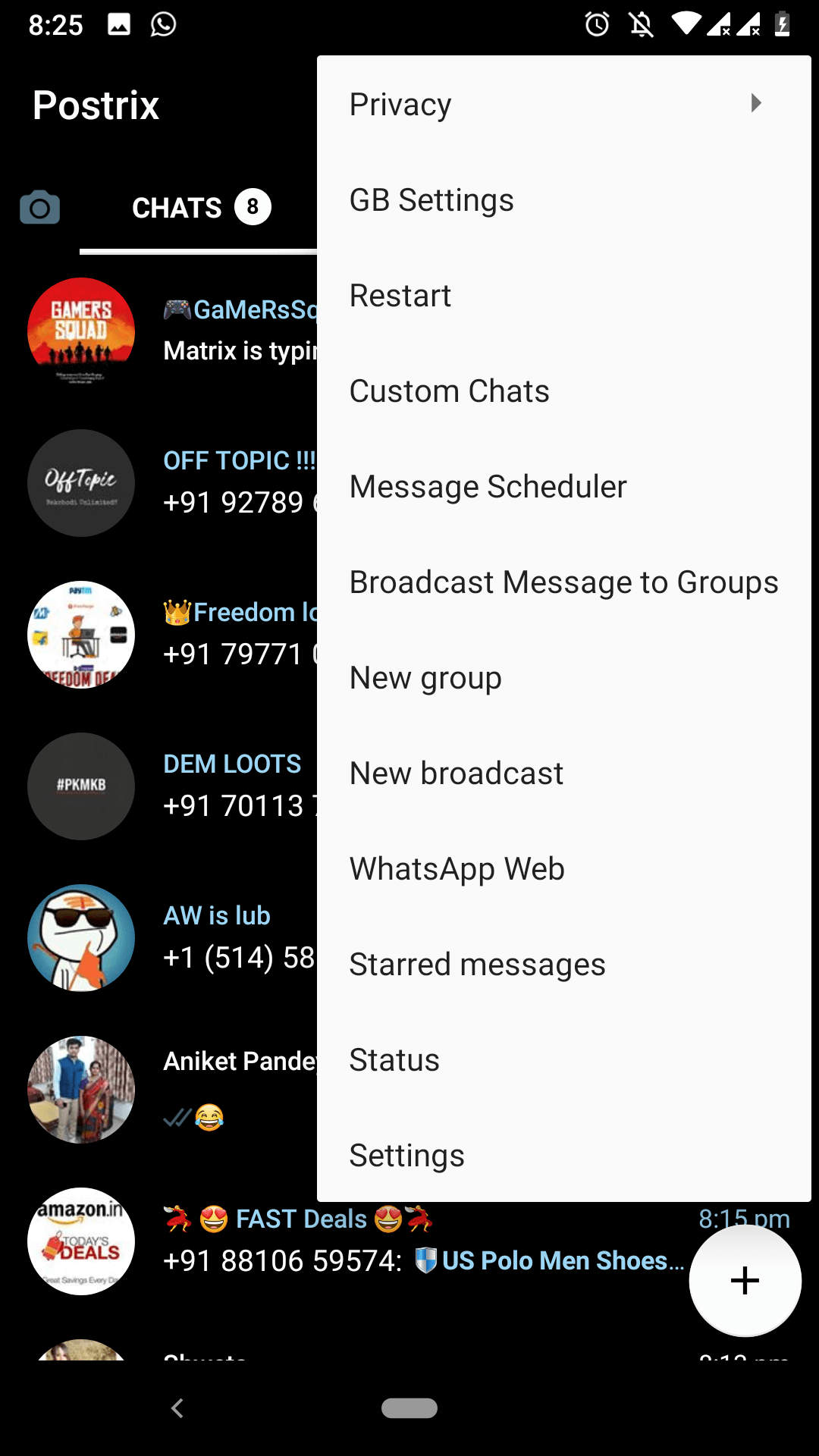 Step-6:
In here, go into Privacy and tap on Enable Anti Revoke. After you have done this, no one will be able to revoke messages from your Android device. And you will be able to read deleted WhatsApp messages on Android.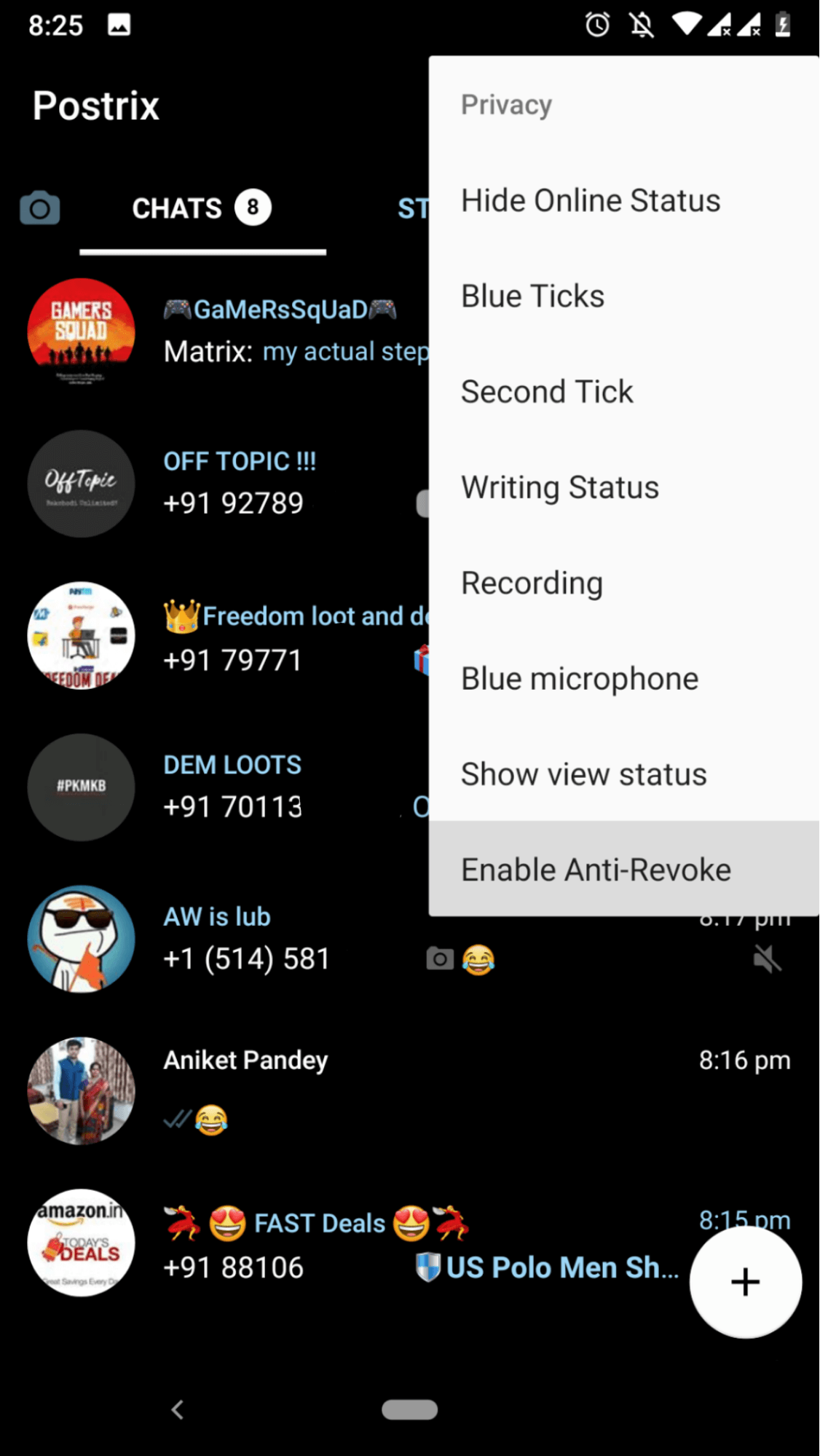 Must Read: Best Lightweight Browsers
Wrapping Up
Well, I hope that you've successfully used the methods mentioned in this article to read deleted WhatsApp Messages. I would suggest you follow the second method, as you will get more features in Whatsapp mods. 
If the tutorial was useful for you, then don't forget to share it on your social media handles. In case you have any doubts or issues regarding the tutorial then leave your feedback in the comments below.